Children's Book Reviews
The Internet Writing Journal
A Great and Terrible Beauty by Libba Bray
Delacorte Press, December, 2003
Hardcover, 403 pages
ISBN: 0385730284
Ages: Young Adult
Ordering information:
Amazon.com
16 year-old Gemma Doyle longs to return to England, where she can go to balls, wear marvelous clothes and meet handsome young men. Living in Bombay, India with her parents and older brother during the British occupation, Gemma constantly bickers with her mother, whom she actually adores. While out walking one day, Gemma's world is devastated when her mother is murdered in circumstances that suggest the supernatural. The family returns to England, and Gemma is packed off to boarding school. As the newcomer to the Spence Academy, Gemma is tested by the popular girls, as she struggles to fit in. Gemma has always had visions in which she can see the future, but has hidden her talent from everyone. When she finds an old diary of a former Spence student in a cave near the school, Gemma's latent powers begin to surface. With her new friends, Gemma explores her new ability to visit another realm and learns more about an ancient group of female sorceresses known as The Order. Members of the Order could open the door between worlds. But there are those who don't want Gemma's powers to flourish and danger stalks both Gemma and her friends.
Libba Bray neatly crosses genres in this stunning debut novel, which addresses the issues of Victorian repression, sensuality, the British caste system and the role of women in society. As the girls of Spence learn painting, dancing and flower arranging, preparatory to their launch into society to find a wealthy husband, they struggle with the same things that today's teens also struggle with: finding an identity, being liked, and not making an utter fool of one's self. Ms. Bray has a compelling writing style: her characters have depth, her dialogue sparkles and her sly sense of humor adds an imaginative spark to story. Gemma is a heroine that women of all ages will relate to: her longings, her passions and her guilt over arguing with her mother right before she died is heartrending. The Victorian, almost gothic, setting is used to great effect, and the supernatural sequences are vivid and exciting. Libba Bray is a talent to watch.
--Claire E. White
---
Simeon's Gift by Julie Andrews Edwards and Emma Walton Hamilton, Illustrated by Gennady Spirin
HarperCollins, September, 2003
Picture Book, 40 pages
ISBN: 0060089148
Ages 9-12
Ordering information:
Amazon.com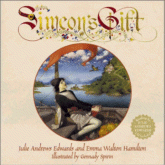 A long, long time ago, "when castles and monasteries dotted the land and knights wend forth to do brave deeds…. there lived a humble musician named Simeon." Simeon is penniless and uneducated, but he's kind and gentle. He falls in love with a noblewoman named Sorrel. But, not being the gigolo type, he is ashamed of his lowly status and of the fact that he cannot provide for Sorrel. So, with his trusty lute, he sets out to have adventures and make his fortune. Plagued with an amount of self-doubt that is somewhat unusual for the hero in a fairy tale, Simeon eventually overcomes his nervousness and meets a magical fish, a magical bird and a friendly faun. He also discovers his inner musical talent, which makes him able to earn a living to support his love, Sorrel.
Julie Andrews reads the story on the accompanying CD and her marvelous voice makes the most of this very modern story about finding oneself. Simeon is not the most compelling of heroes, and adult readers may wish that he would quit his internal musings and get
on
with things. It is the incredible artwork that makes
Simeon's Gift
a standout. Award-winning artist Gennady Spirin gives us stunning watercolors, done in the style of the Italian Renaissance. With rich, yet soft colors, his work is vibrant and alive. Angels, swans, bards, beautiful cities and majestic flora jump off the pages. Each page has a beautiful frame -- some round, some square. This is an exquisitely beautiful book, with an uplifting message that will play well with older children: "a true and brave heart can find a way, if it will only trust in all the wonders under God's canopy."
---
Thumbelina by Hans Christian Anderson, Retold and Illustrated by Brian Pinkney
Greenwillow Books, September, 2003
Picture Book, 40 pages
ISBN: 0439531640
Ages 4-8
Ordering information:
Amazon.com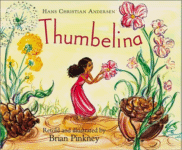 Hans Christen Anderson's classic story about the tiny girl named
Thumbelina
gets an updated and modern twist in this bold retelling. Brian Pinkney's Thumbelina is a mocha-skinned beauty who grew from a magic seed that her mother (who had longed for a child) purchased from an old woman. Thumbelina is kidnapped by a frog who thinks she would make a great wife for her froggy son. Thumbelina escapes this and other forced marriages, escaping with the help of a swallow who she had nursed back to health. The swallow brings Thumbelina to the world of the flower people -- people who are just like her. The handsome king of the flower people asks Thumbelina to be his bride and queen, and she accepts.
The illustrations are bold and vibrant, with thick, curving lines which convey a sense of movement and emotion. The artist sketches just enough of the outline of the main shapes to convey the concept of the scene, which gives this old story some new, raw energy. Thumbelina herself is sweet and caring, nursing a bird back to health and worrying about deserting her friend the field mouse. The enchanting illustrations and updated story make this a fairy tale worth re-reading.