Children's Book Reviews
The Internet Writing Journal
Page One of Two
A Big Cheese for the White House by Candace Fleming, Illustrated by S.D. Schindler
DK Publishing, Sept., 1999.
Hardcover, 32 pages
Ages 3-8
ISBN: 0789425734.
Ordering information:
Amazon.com.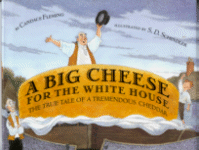 In 1801, the citizens of Cheshire, Massachusetts are enraged. Rumor has it that President Thomas Jefferson has been serving cheese from the town of Norton at the White House! Everyone knows that the best cheese in the country comes from Cheshire. Elder John Leland has an idea. If everyone in the town will contribute, they could make the a huge cheddar cheese to give to Thomas Jefferson as a New Year's present. That way, there would be no need for Norton cheddar to be served at the White House for years to come. "It can't be done," says the town grump Phineas Dobbs. But the people persevere, making a cheddar four feet thick, weighing 1,235 pounds which they send by horse-drawn sleigh and by ship to Washington, D.C. "News of the cheese traveled faster than the ship. At every port, people flocked to catch a glimpse. 'It's tremendous!' they cried." The cheese was a great hit with the President, and lasted for years.
The story of the giant cheddar is a true one, but the wonderful characters (such as the town grump) arise from the talented imagination of author Candace Fleming. Phineas repeatedly tells the townspeople why they can't succeed in this task (there's not a big enough cheese press, there's no hoop big enough to hold the cheese etc.) and repeatedly the townspeople overcome every obstacle in order to make the cheese which will ensure the town's place in history. Schindler's illustrations, done in pen and watercolor are vibrant and humorous, striking just the right note. We look forward to more collaborations from this talented team.
---
Copy Me, Copycub by Richard Edwards, Pictures by Susan Winter
HarperCollins, Dec., 1999.
Hardcover, 32 pages
Ages 3 - 7
ISBN: 0060285702.
Ordering information:
Amazon.com.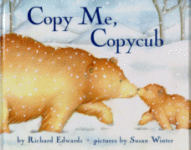 "It was spring in the north woods, and the bears were out exploring. Everything his mother did, the cub did too." So begins this charming tale of the little bear cub who copies everything his mother does in order to learn to be a proper bear. Mother and baby bear splash through a swamp, sit down for a scratch, pick berries, and climb a tree for honey. When Autumn comes, the days get colder and frost appears on the ground. Mother bear tells the little copycub that it's time to go to the cave to shelter them from the coming winter. They set off on a cross country trip, lolloping through trees and wading streams, but soon the little baby bear gets tired. It's snowing now, and he just wants to curl up and go to sleep. But his mother helps him keep going and they finally reach the cave. "They watched the snow falling outside. Then they snuggled down into the leaves." It's time to hibernate until Spring.
Copy me, Copycub
is a charming and warm nature story which toddlers are sure to love. Susan Winter's watercolor illustrations are done in lovely pastels, with wonderful expressions on both of the bears' faces. The text has repetition, and some fun nonsense words (lolloping, for example) which should have toddlers longing for story time again.
---
Children's Book Reviews
Page One | Page Two

Return to Book Reviews Index