Children's Book Reviews
Endymion Spring by Matthew Skelton
Delacorte Books, August, 2006
Hardcover: 400 pages
ISBN: 0385733801
Ages Young Adult
Ordering information:
Amazon.com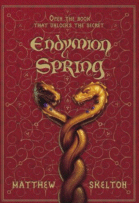 Blake and his younger sister Duck arrive at Saint James College in Oxford with their mother for the summer. Their father is spending the summer in the U.S. and Blake is worried that his parents are headed for a divorce. One afternoon, as Black is walking through the library, running his finger along the backs of the books, one of the books bites him. Shocked, Blake examines the book which is titled
Endymion Spring
. There are no words in the book at first, but the book chooses Blake and he is able to see what's there. The story alternates between the modern day adventures of Blake and Duck as they find, lose and then try to find the book again and discover its secrets, and the tale of Endymion Spring, a young printer's devil who works for his master Johannes Gutenberg in 1452. Gutenberg is obsessed with his printing machine and cuts a deal with Johann Fust. Fust arrives at the shop carrying a wooden chest which is decorated with serpents' heads. Dying of curiosity about the box, Endymion hides in the shadows and one night he finds out what is in the box. His discovery is so horrifying that he steals what's inside the box and is forced to leave his cozy life behind. Meanwhile, back in the present, Blake and Duck find themselves being pursued by a strange, dark shadow and meet up with a number of obsessed adults from the Ex Libris Society who are determined to steal the book, which contains untold power and secrets for those that have the ability to read it.
Endymion Spring
is an absolute delight for those who like their stories mysterious and scholarly. The setting of Oxford is marvelously done, as is the gripping story of the real Gutenberg and his patron Johann Fust. Fust, of course, was the inspiration for the legendary tale of Faust who sold his soul to the devil. Matthew Skelton skillfully weaves together the two thrilling tales of two boys from very different time periods into one of the best young adult books written this year. Blake, the shy boy who feels a great deal yet who sometimes has trouble communicating with others, is a charmer. His interaction with his sister Duck (the "smart one") will bring a smile to anyone who knows young siblings. Bibliophiles will especially thrill to the chase scene set in the secret depths of the Bodlian Library which holds untold volumes of rare and antique books. Matthew Skelton is a talent to watch.
---
The End (A Series of Unfortunate Events, Book 13) by Lemony Snicket, Brett Helquist (Illustrator)
HarperCollins, October, 2006
Hardcover, 368 pages
ISBN: 0064410161
Ages 9 and up
Ordering information:
Amazon.com
After twelve horrifying adventures, readers have finally reached the conclusion of the story of the three Baudelaire orphans, Violet, Klaus and Sunny. The orphans are lost at sea with the despicable Count Olaf when they are shipwrecked on an island. The islanders appear to be welcoming and friendly, but of course things are never so simple with the Baudelaires. It turns out that the island has quite a secret and soon the children are smack dab in the middle of a terrifying adventure in which several characters "kikbucit," as Sunny would say. So, does Lemony Snicket wrap up all the mysteries and provide a happy ending? If you imagine that, then clearly you have not been paying attention to the author's numerous remonstrances that you drop the book and go attend to something else instead. A few mysteries are solved and some new ones are created. And for those who have read
The Beatrice Letters
(a gorgeously produced book with an accordion file full of correspondence, maps and clues which relate to the Baudelaires), it may make a bit more sense than it does for those that have not. In any event, this tale has ended, although there are still plenty of tales to tell in this universe. Lemony Snicket swears he's not going to tell them, however, which is a shame.
--Claire E. White
---
The Palace of Laughter: The Wednesday Tales No. 1 by Jon Berkeley
Julie Andrews Collection, August, 2006
Hardcover, 448 pages
ISBN: 0060755075
Ages 9-12
Ordering information:
Amazon.com
Orphan Miles Wednesday lives in a barrel, which is actually a more pleasant place to live than his prior abode: the Pinchbucket House orphanage in which no one is ever allowed to laugh. Or talk much, either. One day the exotic Circus Oscuro comes to town and Miles decides to sneak in to see the show. Miles sees one of the performers, a little girl, fall from a terrible height. She is saved from certain death by the appearance of wings on her back, which no one else seems to notice. The little girl is actually a 400 year-old angel named Little, who is being kept captive by the owner of the circus. Little and Miles join forces to find Little's mentor, Silverpoint, another angel that has been kidnapped and who is being held prisoner in the Palace of Laughter (which is a ghastly place, despite the cheerful name) and to rescue Miles beloved Tangerine, a tiny stuffed bear that has been given life.
Accomplished Irish illustrator Jon Berkeley has a lovely lyrical bent to his writing. Every chapter starts with a short, whimsical rhyming description of a character: "Lady Partridge, book-bound, dragon-gowned, and mistress of a hundred cats...", "Miles Wednesday, bruised, bemused and bearless..." , and "Miles Wednesday, stomach-knotted and hopelessly outnumbered, look around him" The story is full of odd characters, terrifying clowns and absolutely despicable adults, although there are a few grownups that are good and kind. The action is lively and Miles is a charmer. But it is Tangerine the bear that will steal your heart in this very entertaining story.
---
More from Writers Write
---