Children's Book Reviews
Page One of Three
Baby Faces Stroller Book
DK, September 2000.
Board Book
Ages Baby through Preschool
ISBN: 0789466589.
Ordering information:
Amazon.com.
DK has done it again with these fabulous stroller books. The tiny board books feature simple stories and vivid photographs. But the best feature of all is the strong, elastic strap which snaps onto a stroller. Finally, a board book that won't get lost! The
Baby Faces
book has a series of babies of all colors doing different things. Your baby will love looking at the Smiling Baby, the Laughing Baby, the Sleeping Baby, as well as watching adorable tots catching a ball and clapping their hands. The Stroller Books make a wonderful shower gift for a new mom, or a great birthday for the tot that likes to read on the go. Highly recommended.
---
Bonaparte by Marsha Wilson Chall, Illustrated by Wendy Anderson Halperin
DK Ink, September 2000.
Picture Book, 32 pages
Ages 4-8
ISBN: 078942617X.
Ordering information:
Amazon.com.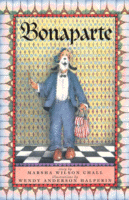 When a dog's boy, Jean Claude, is sent away to school which doesn't allow dogs, what is a dog to do? If he is Bonaparte, the star of this charming tale, he heads off to the school himself, only to be turned away at the door. Undeterred, Bonaparte attempts to sneak in the school disguised as Jean Claude's mother, a janitor, and even a new student. But, alas, each time he is found out. (The health exam for new students turned up the fact that he had paws and a tail, for example.) But when Jean Claude goes missing, suddenly Bonaparte is much in demand at the school. Putting his nose to the ground, Bonaparte searches the French countryside, and finally finds his beloved Jean Claude -- who had left school to find his dog! After this incident, the school changed its motto from "No Dogs Allowed" to "Now Dogs Allowed." Naturally, this new policy changes the school ("Meals, agreed the Regents, had clearly gone to the dogs"), but the changes are all for the better. Bonaparte now spends the night at the foot of Jean Claude's bed.
Bonaparte
is a fresh and entertaining story, and Bonaparte himself is a real charmer. Wendy Anderson Halperin's detailed and lively illustrations are done in lovely pastels, with elaborate and beautiful borders. This lighthearted story of the love between a boy and his dog is sure to be a story time favorite.
---
Children's Book Reviews
Page One |
Page Two
|
Page Three
Return to Book Reviews Index
---
More from Writers Write