Children's Book Reviews
Page One of Two
By Nancy Littlejohn
Ah, November! Whether you are reveling in the first snow of the season or the first dip in the thermometer below 90, it's a cozy time of year. It brings the first hint of the holiday season and longer nights perfect for snuggling up with a good book. This month, there is much to be thankful for in the harvest of children's books. From the re-issue of the very first Caldecott Medal winner to another of Lois Ehlert's masterpieces of illustration to a pair of hilarious beginning readers, there is something for everyone to enjoy. Happy reading and Happy Thanksgiving!
Angel Hide and Seek by Ann Turner, Illustrated by Lois Ehlert
HarperCollins, June 1998.
Picture Book, 30 pages
ISBN: 0694011231.
Ordering information:
Amazon.com.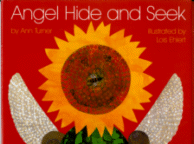 "Walk in the field, / watch the sky, / climb through the woods / and find- / cloud angels, / hay angels, / faces hiding in the wood." Thus starts a marvelous adventure through a glorious riot of color and natural objects to find hidden angels. Ann Turner's delicate, delicious poems give hints on how to search through Lois Ehlert's amazing collages to find the celestial beings. You and your child not only will delight in looking for them, but also will revel in the wealth and depth of color and detail on every page. There are so many different kinds of angels! Sunflower Angels, Barn Angels, Hay Angels and Butterfly Angels among others are flitting here and there waiting to be discovered. Some angels are exuberantly jumping off the page while others can barely be noticed. Ehlert uses many things found in nature such as leaves, milkweed pods, shells and bark in addition to various kinds of paper in her fabulous collages. It's an education in itself to try to identify the objects. At the end of the book, she includes an explanation of the natural phenomena and the various creatures among which the angels are hiding. Another fun aspect to hold your child's attention is the page layout that is both horizontal and vertical. It's a surprise every time you turn the page!
Turner's poems are just as angelic as Ehlert's pictures. They are bold or quiet, matching the mood of the colors and hiding angels. She asks of Snow Angels, "When we leave to go / inside, do they fly / into the air / like a silver song?" Of Pond Angels she says, " A beaver glides through / a path of moonlight, / pulling the water / into shining wings." What a wonderful introduction to poetry and language she gives like a gift to all who read and gaze in wonder at this book.
Angel Hide and Seek
is an absolute must have on any bookshelf. It's fun. It's gorgeous. It's enchanting. (And, shhhh, it's educational!)
--Nancy Littlejohn
---
Animals of the Bible by Dorothy P. Lathrop, Text selected by Helen Dean Fish
HarperCollins, August 1987. Reissue edition .
Picture Book, 66 pages.
ISBN: 0397315368.
Ordering information:
Amazon.com.
In honor of the sixtieth anniversary of the publication of this winner of the first Caldecott Medal for the most distinguished picture book for children, a special edition of
Animals of the Bible
has been re-issued. First published in 1937, when colored illustrations were almost non-existent in children's books, Lathrop's exquisite black-and-white drawings are nonetheless just as moving and appropriate for the elegant King James Bible text. Particularly notable are the hart, the eagle, the fox and the animals gathered around the manger. Eyes are Lathrop's strong suit whether showing love, pain, fear or peace. Evident also is her obvious love for animals. The Bible stories and verses selected from both the Old and New Testament are short enough to hold a small child's attention, and many are some of the most comforting in the Bible. The King James Version of the Bible is rarely used these days, but it has some of the most eloquent and beautiful writing in the English language. Its cadences are an excellent way to introduce children to the sounds of "the old days." This book obviously is from a different era but one to be appreciated and treasured.
Animals of the Bible
ends with a passage entitled "The Peaceable Kingdom" taken from Isaiah. A line from that passage suggests what these women of 1937 might have been trying to accomplish as they collaborated on this book, " The wolf also shall dwell with the lamb, and the leopard shall lie down with the kid; and the calf and the young lion and the fatling together; and a little child shall lead them." Let your little child lead you to new insights as you sit down together to read selections from this keepsake book.
--Nancy Littlejohn
---
Click Here For Children's Book Reviews Page Two
Return to Book Reviews Index
---
More from Writers Write