Children's Book Reviews
Page Three of Four
Millennium Pack
DK Publishing, October 1999.
Paperback
Ages 9 - 12
ISBN: 0789447150.
Ordering information:
Amazon.com.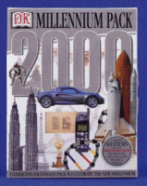 DK has created an interactive activity pack which will be an invaluable aid for teachers and parents explaining human history of the last 1000 years. The kit contains 60 items, including a model of the space shuttle, a record book, time capsule kit, and a fabulous historical timeline to put the events and people of this century in perspective. Facsimile documents such as the front pages of newspapers, a wall chart of world maps and a timeline of costumes are also endlessly fascinating. This would be a wonderful Christmas gift for any teacher or for children who have shown an interest in history. Highly recommended.
---
The Night Before Christmas by Clement C. Moore, Illustrated by Bruce Whatley
HarperCollins, October, 1999.
Picture Book, 32 pages
All Ages
ISBN: 0060266082.
Ordering information:
Amazon.com.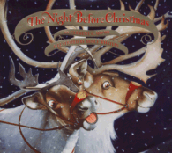 In 1822, Clement C. Moore wrote the poem which was to become the definitive description of Santa Claus: "The Night Before Christmas." Hundreds of editions of the family favorite have been published, but this new edition from HarperCollins is definitely worth a trip to the bookstore. Award-winning illustrator Bruce Whatley (
The Ugliest Dog in the World, Whatley's Quest, The Magic Dictionary
etc.) has taken an interesting approach to the pictures. Using elements from the Victorian and 1950s representations of St. Nick, and mixing them with a modern sensibility, Whatley creates a totally fresh and magical view of Santa Claus' flight through the night, journey down the chimney, and his accidental meeting with the narrator of the story. Gather the children round, get a glass of eggnog, and share this lovely holiday poem with your family this year.
---
Children's Book Reviews
Page One | Page Two | Page Three | Page Four

Return to Book Reviews Index




---
More from Writers Write
---