Charm City by Laura Lippman Review
Charm City
by Laura Lippman Avon, Oct., 1997.
Paperback, 291 pages.
ISBN: 0380788764.
Ordering information:
Amazon.com.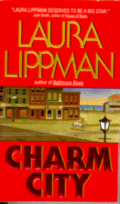 Former newspaper reporter turned private investigator Tess Monoghan meets her friend Feeney for a drink. She finds him bombed - his editors pulled his latest investigative news story just before its scheduled publication. Feeney's latest triumph would have been an investigation into the scandalous background local businessman "Wink" Wynkowski, who is trying to bring professional basketball to Baltimore. When the story runs, the Beacon-Light hires Tess to discover who hacked into its computer system to print the story. In the meantime, Tess is asked to babysit a greyhound racing dog by her Uncle Spike, who evades explaining to her the dog's sudden appearance. After Spike is beaten into a coma, hooligans approach Tess to get back their missing property. When the negative publicity from Wink's abusive past seems to derail his plans for the basketball team, he apparently commits suicide, and the pressure on Tess to solve these mysteries increases. As Tess begins to dig, she discovers a darker side to both stories, and she may be the next battered corpse.
Laura Lippman's latest novel,
Charm City
, is engrossing for mystery addicts seeking a quick fix. Her terse commentary on current events is woven into a plot with enough twists, surprises and false leads to satisfy any fan of the genre. Baltimore is used as a lurid, almost lascivious background for the story, and the author's description of the city and characters delights the reader by providing an unexpected travelogue. Curl up with this book on a snowy weekend.
--Doug Jacobson
---
More from Writers Write