Characters & Viewpoint by Orson Scott Card Review
Writer's Digest Books, March 1999.
Paperback, 182 pages.
ISBN: 0898799279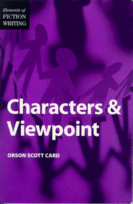 Characters & Viewpoint is part of the Elements of Fiction Writing series from Writer's Digest Books. This latest edition to the series, written by Hugo, Nebula and World Fantasy Award Winner Orson Scott Card, focuses on methods for developing your characters and how to choose a viewpoint that is in synch with those characters' thoughts and actions. Card provides information on what makes a good character, and suggests different places to get ideas for characters. He also provides tips for improving your characters, discussing such subjects as major and minor characters, emotional attributes, how to make your audience care about your characters, heroes, the common man character, comic characters and serious characters. He also provides instruction about character's voices and first person vs. third person narratives.
When the author of Ender's Game speaks, aspiring authors should listen. Creating interesting and believable characters and a compelling viewpoint are two of the most difficult skills for novices to master. In Characters & Viewpoints, Card shares the secrets for writing engaging characters which readers (and editors) will love. Highly Recommended.
Ordering information: Amazon.com.
---
More from Writers Write