Cat In A Golden Garland Review
Cat In A Golden Garland
by Carole Nelson Douglas
Forge, Nov., 1997.
Hardcover, 352 pages.
ISBN: 0312863861.
Ordering information:
Amazon.com.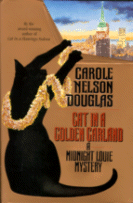 Midnight Louie, the tough-talking gargantuan black detective tomcat, is back again in this eighth entry in the popular series. It's Christmastime and Louie and his human cohort Temple Barr, a publicist, have been invited to New York where Louie is up for a lucrative role in a television ad for the latest cat food. The competition is stiff - and so is the body found wedged in the fake chimney at the ad agency's annual Christmas party. Of course, Midnight Louie finds time to investigate the murder while doing his best to walk off with the plum TV role, helping Temple with her personal life which is suffering due to the disappearing act of her magician boyfriend, and assisting his own lady love, the lovely Yvette who is in danger of losing a lucrative TV contract as chief spokescat when she violated the morals clause in her contract by becoming an unwed mother of several adorable kittens.
Will Louie find the murderer? Will Tess find love with her mysteriously missing ex? You can be sure that Louie will be up to his whiskers in adventure and intrigue in this charming entry in the madcap series. The perils of Temple as she carts Louie around New York city are quite funny, Louie's commentary is insightful and ironic and the story of one of Temple's suitors (an ex-Catholic priest coming home for the first time to his abused mother) makes a moving counterpoint to the lightness of Louie's escapades. An extremely entertaining read.
---
More from Writers Write