Captain Jack's Woman Review
Avon Historical Romance, Oct., 1997.
252 pp. ISBN: 0380794551
Paperback.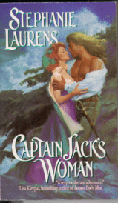 After 6 years in London with her scheming aunts, Katherine "Kit" Cranmer is delighted to be returning home to her ancestral home in West Norfolk and the grandfather she adores. Always a free spirit, Kit eventually grows bored with country life and slips out at night dressed as a lad to ride her beloved black Arabian, Delia, along the English coastline. While on a midnight ride, Kit runs into a band of smugglers, and ends up saving the group from certain capture and becoming their leader. While masquerading as the brilliant lad leader of the smuggling gang, she meets Captain Jack the leader of the infamous rival Hunstanton gang. What she doesn't know is that Captain Jack is really Lord Hendon, undercover operative for Whitehall and notorious rake. Jake soon penetrates her disguise as a lad and their passion for each other flares when the gangs join forces. Jack decides to extricate Kit from her dangerous role as midnight smuggler in order to facilitate making her his mistress, thinking she is an illegitimate byblow of Lord Cranmer, instead of the highborn lady that she really is.
But Jack fails to reckon with Kit's thirst for adventure and her unwillingness to give up her smuggler's masquerade. As Jack grows closer to catching the spies he is ordered to locate he finds it harder and harder to deny his feelings for the tempestuous and beguiling Kit, while she is both astonished at the passionate feelings he incites in her and infuriated by his determination to keep her out of the action and out of danger. As they both struggle to deny their feelings for one another and to penetrate the secrets that keep them apart, events are converging to a climactic ending where they must face enemy swords and the English Revenue before they can finally be together.
Captain Jack's Woman is a passionate, action-packed, historical romance with love scenes so hot they sizzle and smoke off the pages. The heroine Kit is a strong, independent female character who is still believable within the context of her historical period. Captain Jack is a strong, fascinating lead with enough animal magnetism to keep readers glued to the pages. Stephanie Laurens has penned a passionate winner that will be sure to inspire legions of fans who will eagerly await her next novel. A smashing debut from a talented and passionate author.
Ordering information:
Amazon.com.
---
More from Writers Write