Brotherman : The Odyssey of Black Men in America Review
Edited by Herb Boyd and Robert L. Allen
Fawcett Books, 1996.
ISBN: 0345383176
Paperback.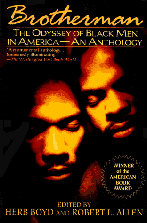 Tennis great and philanthropist Arthur Ashe shocked the world in a People magazine interview in which he stated, "...AIDS isn't the heaviest burden I have had to bear. ...being Black is the greatest burden I have had to bear...[h]aving to live as a minority in America."
His words echo in your mind as you read Brotherman, an anthology of 150 writings by such noted African Americans as Muhammed Ali, Arthur Ashe, Duke Ellington, Sydney Poitier, Alex Haley and W.E.B. Du Bois, in a collection of memories, social histories, slave narratives, and other writings.
Edited by Herb Boyd and Robert L. Allen, this collection of essays, writing and descriptions will touch your heart. The writings range the gamut of emotions: happiness, joy, sadness, anger, humor and everything in between. They are uplifiting and depressing, infuriating and joyous, but always moving. Powerful and disturbing, Brotherman is a compelling book which will forever change your perspective on what it means to be a Black man in America.
Ordering Information: Amazon.com.
---
More from Writers Write