Born Bad by Barry Hoffman Review
Leisure Books, Nov., 2000.
Paperback, 392 pages.
ISBN: 0843947934.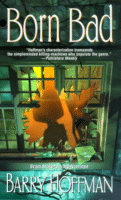 Homicide detective Ariel Dampier is assigned to a puzzling case. Within a short period of time, three co-eds at the University of Pennsylvania are found dead -- apparently suicides. But there is one student who seems to have known all the suicides: Shanica Williams. Shanica, a freshman, was a crack baby whose mother died while giving birth to her. Shanica was literally "born bad".
Born Bad is a taut, complex psychological thriller which explores the mind of a most unusual serial killer. Homicide detective Ariel Damper is a compelling and complex woman who ends up in a cat and mouse game with the killer, while dealing with the baggage of being the daughter of a racially mixed couple, as well as having to work with her ex-husband on the murder investigation.
Barry Hoffman does a marvelous job of getting inside the minds of his characters, and his pacing is excellent. This is not your average serial killer book at all; it's fresh, unique and loaded with suspense. Even if you usually prefer cozies, you're sure to find Born Bad quite intriguing. Highly recommended.
Claire E. White
Ordering information: Amazon.com.
---
More from Writers Write