Beyond the Wall of Sleep Review
Beyond the Wall of Sleep
by R. Andrew Heidel
Mortco, August 1998.
Hardcover, 56 pages.
ISBN: 0966522400.
Ordering information:
Amazon.com.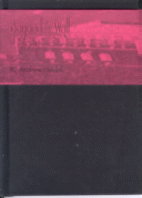 This fascinating little collection of short stories and poetry by R. Andrew Heidel shows a promising new talent to be watched. The nine short stories include the witty and thought-provoking "Dead Drunk, " the story of an ordinary guy who meets Death herself in a bar, "Staring Skyward" the story of a man who is terrified of getting left out of the next level of human evolution and "The God Makers," the story of a simple fishing village which learns to worship the sea. The poetry ranges from the very simple to more experimental pieces, and is dark and interesting.
Mystical, magical and sometimes surreal, the short stories from
Beyond the Wall of Sleep
will have you thinking about them long after you've put it down. An excellent debut from a talented writer whose talents should translate well into a full-length novel.