Behind the Writing -- The Lincoln Lawyer
by Michael Connelly
Five or six years ago, I was invited by a friend to join him and others at opening day for the Los Angeles Dodgers. I sat next to a man I hadn't met before and in the exchange of pleasantries and
howyadoins
learned he was a criminal defense attorney. As a news reporter, I had briefly covered courts in L.A. County years earlier and knew that defense attorneys, because of the breadth and numerous courthouses in the county, usually concentrated their work in a geographic section of the county. This prevented them from having long down times while driving between courthouses. I asked which courthouses he worked and he said all of them. He said "
have case will travel.
" I asked him where he located his office and he said, "
Basically, it's my car.
" He then went on to explain that, since he was willing to take cases anywhere, he made his car a working office. He used a client, who was working off his legal fees, as a driver, and he sat in the back where he had a fold down desk, computer, printer, wireless fax etc. And, of course, he had his cell phone. While driving from courthouse to courthouse, he worked the phone, wrote legal briefs and pleadings, basically turning driving time into office time. I ended up spending more time talking to him than I did watching the game, and when I went home that day, I had an idea for a new character.
But the idea would need a lot of research. I would need to spend time with defense attorneys. The problem was that, in 2001, I moved from L.A. to Florida, and though I return often, there was not a lot of time for hanging out with lawyers. I put the idea aside, until one day in Florida when I read a story about a trial in the newspaper and recognized the name of the defense attorney as a former roommate from my first job after college at the Daytona Beach News Journal. I reconnected with my friend and spent a couple of years, off and on, watching him work and spending time after work with him and his law partner. From all of this came The Lincoln Lawyer. I wrote it using several of the experiences of my Florida friend and his partner, and then I asked the lawyer in LA, who originally planted the idea in my head, to read the manuscript to make sure I had California laws and procedures correct. I also have a friend who is a judge in the Criminal Courts Building in LA, and she allowed me full access to her courtroom so that I could get the sense of trial procedure and custom.
All of this took place over five or six years, which was unusual for me. Most of the time my books run only a couple of years between their inception and completion. This one was with me the longest.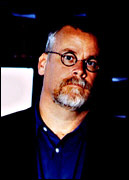 ** Michael Connelly decided to become a writer after discovering the books of Raymond Chandler while attending the University of Florida. Once he decided on this direction he chose a major in journalism and a minor in creative writing. After graduating in 1980, Connelly worked at newspapers in Daytona Beach and Fort Lauderdale, Florida, primarily specializing in the crime beat. In Fort Lauderdale he wrote about police and crime during the height of the murder and violence wave that rolled over South Florida during the so-called cocaine wars. In 1986, he and two other reporters spent several months interviewing survivors of a major airline crash. They wrote a magazine story on the crash and the survivors which was later short-listed for the Pulitzer Prize for feature writing. The magazine story also moved Connelly into the upper levels of journalism, landing him a job as a crime reporter for the Los Angeles Times and bringing him to the city of which his literary hero, Chandler, had written.

After three years on the crime beat in L.A., Connelly began writing his first novel to feature LAPD Detective Hieronymus Bosch. The novel, The Black Echo, based in part on a true crime that had occurred in Los Angeles, was published in 1992 and won the Edgar Award for Best First Novel by the Mystery Writers of America. Since then he has written numerous bestselling thriller novels. His latest novel is The Lincoln Lawyer (Little, Brown).
---
More from Writers Write