Angel to Angel: A Mother's Gift of Love Review
Angel to Angel: A Mother's Gift of Love
Walter Dean Myers
HarperCollins, April 1998.
Hardcover, 25 pages with photographs.
All Ages.
ISBN: 0060277211.
Ordering information:
Amazon.com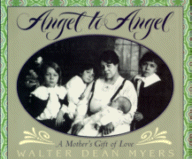 "No tears in the writer, no tears in the reader." Robert Frost.
Walter Dean Myers writes in the moving forward to
Angel to Angel: A Mother's Gift of Love
that the woman who gave birth to him died when he was not quite two, thus he has no real memories of her and no photograph. The woman whom he says became Mother for him is obviously very beloved, and he speaks of the precious moments he has spent with her, but, alas, he has no picture of him with her either. He says that perhaps this book is that picture, and he dedicates
Angel to Angel
to her.
This book overflowing with love and tenderness through Myers' eloquent, evocative poems and deeply moving antique photographs mostly gleaned from his personal collection must have caused him to shed not a few tears for the mother he lost and the mother he gained.
Some of Myers' poems are silly, too. Silly like mothers and children sometimes are when they play together. The faces of the mothers and children and families looking at us from the pages of this book, though anonymous, seem like family. As in Myers' poems, they are universal in their expression of love and hope and togetherness. Meyers has given the world a gift of love with Angel to Angel. Give this book to your mother if you are fortunate enough to still have her. Give it to someone you love. Give it to yourself
-
Nancy Littlejohn
---
More from Writers Write