Agatha Raisin and the Terrible Tourist Review
Agatha Raisin and the Terrible Tourist
by M. C. Beaton
St. Martin's Press, Oct., 1997.
Hardcover, 182 pages.
ISBN: 031216761X.
Ordering information:
Amazon.com.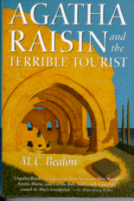 Agatha Raisin has had quite a time of it. Her impending marriage to James Lacey was stopped cold when her supposedly dead husband reappeared on the scene, only to be murdered again. Solving the murder got Agatha's hopes up that her romance was back on track when James disappears to Turkey, the location of their would be honeymoon. Undaunted, Agatha packs a bag and sets off in pursuit of her beloved, yet missing, fiancé. She finds him, but he seems distant .To distract herself from this potential heartbreak, Agatha hooks up with some truly terrible tourists as a way to pass the time. Of course, before long one of them is murdered and Agatha is in the middle of yet another murder investigation. Ordered not to leave town by the local constabulary, pursued by an amorous baronet and heartbroken over the coldness of her beloved James, Agatha must pull herself together in order to solve a murder, avoid being the next victim and emerge triumphant in the game of love.
M.C. Beaton has created another delightful adventure for the irrepressible Agatha Raisin. The scenery of north Cyprus provides a different twist on Agatha's normal sleuthing adventures as does the introduction of the amorous cheapskate Sir Charles Fraith. Agatha's obsession with the cold-hearted James continues and Beaton deftly weaves Agatha's melodramatic personal life into her sleuthing escapades. More fun for Raisin fans.
---
More from Writers Write
---