Adam and Evil by Gillian Roberts Review
Ballantine, July 1999.
Hardcover, 248 pages.
ISBN: 0345429346.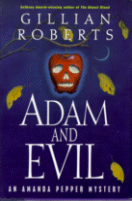 Philadelphia English teacher and amateur sleuth Amanda Pepper is worried about one of her students. Adam Evans' grades are slipping and his personal hygiene is a disgrace. When a librarian is murdered during a class tour to the library, Adam disappears and promptly becomes the prime suspect, mostly due to Amanda's comments about the child's mental state before the incident. Amanda sets out to find Adam, and solve the murder.
This is the ninth entry in this series which features Philadelphia prep school teacher Amanda Pepper. Amanda has a sharp tongue, and her one-liners are priceless. Laced with often humorous commentary on everything from modern education to the vicissitudes of modern relationships, the Amanda Pepper novels are always an enjoyable read. In light of the tragedy at Columbine high school and the other reports of teen violence, the story takes on added interest because of the subject matter. An excellent book which should be enjoyed equally by fans of the series and first-time readers.
Ordering information: Amazon.com.
---
More from Writers Write
---