A Royal Connection by Margaret Summerville Review
Signet Regency Romance, April, 1998.
Paperback, 224 pages.
ISBN: 0451194837.
Ordering information:
Amazon.com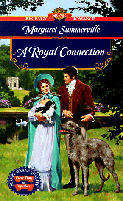 Lady Selena Paget has waited all her life to come out in London society; it sounded like such fun. Unfortunately, the reality of the social whirl is nothing like Lady Selena imagined it! The suitors are deadly dull and she finds the tight social strictures placed upon young ladies of the London ton immensely irritating. Then one day she meets the infamous rake Lord Heathfield who is a notorious rival of her overprotective brother, the Duke of Melford. To make matters more complicated, Lord Heathfield's cousin, Prince Maximilian of Brunconia arrives in London hoping to win the heart of England's Princess Charlotte. Soon, Lady Selena is plunged into romantic and political intrigue involving a shady aristocrat and his sister who also hail from the tiny country of Brunconia and who may have been involved in the theft of that tiny country's royal treasures. As Selena works to solve the Brunconian mystery and to quash her feelings for the dashing Lord Heathfield, events conspire to force Selena to confront her feelings even in the face of violent opposition to the match from her brother, the Duke.
A Royal Connection is a charming, clever and lighthearted romp through the upper strata of London society. The mystery of the Brunconian crown jewels is intriguing and the descriptions of the machinations surrounding royal matchmaking are detailed and amusing. The hero, Lord Heathfield, is strong-willed yet dashing and likeable. A wonderful escape from the modern world.
---
More from Writers Write
---