A Report on the Southern Women Writers Conference
by Jan McDaniel
The Southern Women Writers Conference recently held its fourth biennial session at Berry College in Rome, Georgia. This gathering, with a specific focus on women writers from the American South, carries a different theme each year. The year 2000 theme was "Remembrance". According to the conference brochure, "Speakers and presenters will explore the ways in which memory informs and is represented in the works of southern women writers."
The conference offers a "forum for examining the unique perspectives and concerns of southern women writers of the past and present". Hosted by the college where it was created, a place noted for another unusual feature (a 28,000 acre campus), there could be no better location. Memories of college founder Martha Berry surround the present-day campus.
The rich history and legacy of this amazing woman, who worked alone to start a small school for isolated mountain-dwelling children, is evident in the original log cabin structure that was used as her school. Her playhouse sits near-by and the white-columned family home, Oak Hill, houses a museum filled with memorabilia collected through the years. Run by students at the college, which is work-centered in its philosophy, the museum showcases crafts made in early classrooms as well as mementos from some of Martha Berry's influential friends and supporters. Oak Hill also hosts readings during the conference and opens its doors and gardens to visitors throughout the year with a special Christmas event taking all present back to earlier days when Martha herself turned no one away.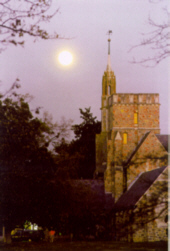 Ford Auditorium, one of several buildings donated to the college by Henry Ford.
One of her supporters, Henry Ford, donated more than trinkets to the college. He believed in Martha Berry's work so much that a whole complex of castle-like buildings bears his name. These include dormitories, an auditorium, a dining hall and a chapel. His donations, along with those of others outside the rural Georgian landscape, illustrates the impact Ms. Berry had on those around her.
The Dream House, a hill-top retreat built by students for their beloved teacher, is surrounded by the countryside she loved. With open arms she welcomed visitors here as she spent her entire life building what is now a respected institution of higher learning. She is buried on the campus near the main chapel.
Do they remember Martha? The answer is yes. Today's graduating classes carry lighted candles in her honor during their processionals. It is said that her protective presence still guides.
What kind of conference takes place in such a setting? In addition to the scholarly papers and networking opportunities traditionally expected, this conference highlights new talent by incorporating an Emerging Writers Competition into each conference year and presenting work by the winning writers on the events schedule.
An enthusiastic Director, Emily Wright works with co-directors Katherine Powell and James Watkins to create something special for attending writers and scholars. Along with current Writer-in-Residence June Spence, the staff planned an outstanding slate of sessions, speakers, panel discussions, and ground-breaking entertainment this year. The roster was packed with talent:
Spence herself received the Willa Cather Award in 1995 for an early manuscript of her short story collection Missing Women and Others (1998). In 1999 she received the Mary Ruffin Poole Award for First Work of Fiction from the North Carolina Literary and Historical Society and is presently working on a novel.
Lee Smith, featured speaker, is the author of nine novels and two short story collections and has received eight major writing awards, including the Lila Wallace/Reader's Digest Award (1995-97), the Robert Penn Warren Prize for Fiction (1991) and the O. Henry Award (1979 and 1981). She is professor emeritus at North Carolina University.
Nikki Giovanni, poet, writer, lecturer, activist, and educator has been named woman of the year by three different magazines and has received numerous honorary doctorates and awards, including the Langston Hughes Award and the NAACP Image Award for Love Poems. She is currently a professor of English at Virginia Polytechnic Institute and State University.
Musicians and singer-songwriters Matraca Berg and Marshall Chapman, made this conference much more than a literary event. Berg, a Nashville-based musician, has written songs for some of the biggest names in country music. In 1997 she won the CMA Record of the Year Award for "Strawberry Wine," recorded by Deana Carter. Chapman, a native of Spartanburg, South Carolina, is a songwriter whose recordings span two decades. She has recently collaborated with Berg, Lee Smith, and Jill McCorkle on the musical titled Good Ol' Girls which was presented in an evening performance during the conference. The musical, an adaptation based on characters in some of Lee Smith's novels, is Broadway-bound and lots of rip-roaring fun! More information can be found on Chapman's website at www.tallgirl.com.
Though Jill McCorkle was unavoidably detained in Boston (where she teaches writing at Harvard University and Bennington College), an interview with her is available
here
in this issue of
The Internet Writing Journal
. Another glitch left interviewer Rose Mary McGee short an interviewee when illness kept Sally Fitzgerald at home. McGee carried on by presenting some of her taped conversations with Fitzgerald who is the editor of
The Habit of Being: Letters of Flannery O'Connor
and
Mystery and Manners: Occasional Prose of Flannery O'Connor
, as well as the author of numerous articles and reviews.
Despite such obstacles, and a little rain, the conference offered high spots such as luncheon speakers, Mary Louise Weaks and Carolyn Perry. These talented collaborators, both professors of English, have edited works of their own. From Rockford College in Illinois, Weaks co-edited
Talking with Robert Penn Warren
before joining Perry (Westminster College, Missouri, editor of The Dolphin Reader) in a massive undertaking titled
Southern Women's Writing: Colonial to Contemporary
. The duo will pair up again to complete the forthcoming
History of Southern Women's Literature
.
The variety of presentations was endless at this year's conference. Children's book author George Ella Lyon, who presented thoughts on her poems, essays and novels as well as her picture books, is a multi-talented, award-winning native of Kentucky and a fascinating speaker. Editor and author Peggy Prenshaw, of Louisiana State University, is a distinguished Eudora Welty scholar. Her work as editor and reviewer added yet another dimension to the three-day conference.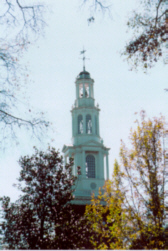 Berry College Chapel. Built in 1915 it is the gravesite of college founder, Martha Berry.
Panel members Lorraine Johnson Coleman and Brenda Marie Osbey offered up intriguing insights into their writing as well as delivered wonderful readings. A Georgia native, Lorraine Johnson-Coleman is the author of
Just Plain Folks
, a collection of short stories and essays documenting African American folk life. Her forthcoming
The Wisdoms of the Baabah Tree
will find her making use of a strong sense of family and persuasive story-telling skills. She is a guest commentator on National Public Radio's
Morning Edition
and was recently featured on
The Oprah Winfrey Show
.
Brenda Marie Osbey has authored four volumes of poetry, the most recent of which--
All Saints: New & Selected Poems
(1997) received the American Book Award in 1998. She is a native of New Orleans and has written essays on her hometown for
The American Voice
, the
Georgia Review
,
BrightLeaf
, and
Creative Nonfiction
.
Writer, teacher, musician, and editor Susan Ketchin (author of
The Christ-Haunted Landscape: Faith and Doubt in Southern Fiction
as well as many reviews, articles, and essays) teaches at Duke University and is presently working on a book about the role of traditional music in southern literature. Her in-depth interview is scheduled to appear in an upcoming issue of
The Internet Writing Journal
.
From this brief look at those who shared their work and their lives for three days in northwest Georgia, it is easy to see how important this relatively new conference has become. In a few short years (since 1994) Berry College has established its conference as a cultural center of southern studies in literature.
While earlier conferences here brought such names as Dori Sanders, Shay Youngblood, Mary Hood, Janice Daugharty, Ellen Douglas, and Virginia Lanier, to name a few, it is the future that beckons and challenges readers and writers alike and allows us to look forward to what is to come in 2002.
Bringing together the best authors and scholars of the region, the Southern Women Writers Conference remembers the oral traditions of the past, sets the stage for the study of an often overlooked segment of great American literature, and opens the way for the creative accomplishments of the future.
This year's conference is over. In the end, papers were presented, books were signed, contacts were made and inspiration garnered. Among the sounds and memories taken from the place, a rich tapestry by anyone's standards, it is the voices--all of the voices--which linger.
Links for further information: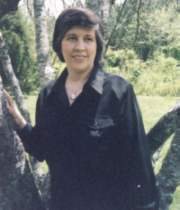 Jan McDaniel is a writer from the southeastern United States, currently living in Georgia. Her published work spans a twenty-five year period and includes columns and articles for newspapers and magazines, curriculum materials, resource kits, radio spots, book reviews, author interviews, and fiction in traditional and electronic publications. Within the past two years, her short stories have appeared in the Savannah Literary Journal, EWG Presents, Moondance: A Celebration of Creative Women, The Literary Journal, Alternate Realities, and FrightNet Online Magazine. Her monthly columns and website reviews may be read in Haven's List Newsletter and Word Weaving: the essential elements and through America Online's Other Side of Creativity (Keyword: OSC).

As Founder and Director of Weekly Writer, a promotion-oriented writing group, she keeps busy with a variety of writing-related tasks. She also enjoys interviewing authors, reviewing children's books and marketing several manuscripts of her own. She may be reached via email at Chance800@aol.com
---
More from Writers Write