A Charles Dickens Crossword Puzzle
by Carly Svamvour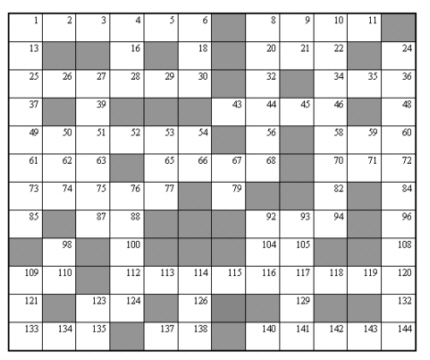 Clues
Across
1) 8) His first published story - Dinner at _ _ _ _ _ _ _ _ _ _
20) Girl's name
25) Town where he lived in early teens
34) New - recent
43) Plank to support over ground
49) Authority figure in a prison
58) Young dog
61) Sort, kind
65) A box in a theatre
70) Single
73) His father's position in the Navy Pay Office
87) Prep. - In the direction of
92) Something Dickens wanted to do, besides write
104) Ma and _ _
109) Exist
112) Mrs. Dickens
123) Sound of surprise
126) Fifth letter of the alphabet
133) Early pseudo and subsequent nick-name for Charles
137) Not out
140) With a loud voice
Down
1) _ _ _ _ _ _ _ _ Papers - An Early Series
4) A young boy
6) Moved swiftly
8) A colleague that he toured with: _ _ _ _ _ _ Collins
9) Public notice
10) Birthplace - suburb of Portsmouth
24) Very close to autobiography - David _ _ _ _ _ _ _ _ _ _ _
27) Where Dickens would go shopping for food
53) Large deer
54) Negative
59) Prefix for Not
67) Depart!
76) Unpleasant insect
92) Mimick
93) A Christmas _ _ _ _ _
98) Myself
109) A Cratchit
123) Wizard of _ _
Click here
for an easy print version of the puzzle.
Click here
for the solution to the puzzle.
**

Carly Svamvour is a freelance writer with twenty years of experience. Her articles, essays, poetry and short fiction, have appeared in several print and online publications. Most recently, her poem "Zap Tracks" appears in the new online publication, Anima-Animus. She and her husband, Jeff, have been publishing Wild City Times, a print and online magazine, slanted toward the outdoors of city life, since 1996. She leads a writers' workshop in Toronto at the High Park Library and keeps an online group going for writers and other fans of the magazine. She moderates the Fantasy Critique board for Inkspot Forums, which is now managed by Writers BBS.

Carly is a regular contributoor at Themestream.com, where she enjoys sharing her passions for nature, photography, gardening, astrology and other subjects of general interest to her readers. She especially enjoys sharing the puzzles she creates, by using the words of varied themes. Check Themestream.com and Wild City Times, for more of Carly's puzzles. Carly makes her home in Toronto, Canada with her husband Jeff and a cat named Bobby McGee. You can reach Carly by email at: wildcity@vif.com.
---
More from Writers Write