9 Scorpions by Paul Levine Review
Pocket Books, September 1998.
Hardcover, 373 pages.
ISBN: 0671019392.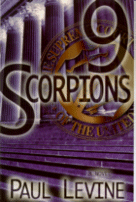 Beautiful and brilliant Lisa Fremont has had the proudest moment of her life -- she's just been offered a clerkship to new Supreme Court Justice Sam Truitt. Her happiness is short-lived, however. The powers that took her from a strip club in San Francisco's infamous Tenderloin district to Stanford Law School and to the Supreme Court are now demanding payment for the help she received -- she is expected to influence Truitt's vote on a crucial case involving a terrible aircrash of Atlantica Airlines in which millions of dollars are at stake. Lisa's job is to use her legal acumen to influence the judge -- if all else fails she must use her feminine wiles to influence his vote, or her life will be in danger. But what Lisa doesn't count on is the overwhelming guilt she feels while playing Delilah, nor the growing respect and attraction she will feel for her victim. Somehow the two must unite to stop a terrible wrong from occurring -- and stay alive in the process.
9 Scorpions is a fascinating foray behind the velvet drapes of the Supreme Court from the popular author of the Jake Lassiter series. The peek behind the scenes of our highest court is fascinating, and the imaginative plot will have readers on the edge of their seats: the marks of an excellent legal thriller. The character of Lisa, the girl from the Tenderloin who made it to the Supreme Court by paying a terrible price, is especially interesting. With a intriguing premise, nonstop action and a romance so intense it scorches the pages, 9 Scorpions is one legal thriller that really delivers. Highly recommended.
Ordering information: Amazon.com.
---
More from Writers Write
---