May-June, 2004
Index
Interviews:
Robert Newcomb
Mariah Stewart
Articles:
Ironing While Watching TV
A Giant Leap for Auslan Storytelling
Perseverance: The Key to the Doors of Success, Part I
Parenting Your Book
Features:
Book Reviews
Return to This Issue's Index
Return to Homepage
Subscribe
Romance Book Reviews
Dead Wrong by Mariah Stewart
Ballantine, June, 2004
Paperback, 416 pages
ISBN: 0345463927
Subgenre: Romantic suspense
Ordering information:
Amazon.com | Amazon.co.uk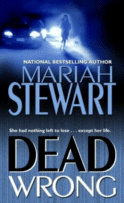 Bestselling author Mariah Stewart (Until Dark) turns up the heat in this first book in a new trilogy. Mara Douglas is a court appointed advocate, who represents the best interests of the child in various court proceedings, especially family law matters. When a serial killer murders several people who are all listed as M. Douglas in the phone book, it appears that Mara is next on the list. Mara's sister is FBI profiler Dr. Anne McCall. Anne calls in an old favor and convinces FBI agent Aiden Shields to protect Mara until the killer is caught. Mara doesn't feel like she needs a protector and Aiden is still recovering from his last assignment, in which his brother was killed, so the last thing he wants is a babysitting assignment. But Anne is a persuasive woman and soon Aiden is by Mara's side as a killer hunts them down.

Ms. Stewart shows her depth of talent as she effortlessly moves into mainstream thrillers with her latest offering. Dead Wrong, the first in a three book series, is a gripping story with interesting characters and a tightly constructed plot. From the tantalizing prologue which sets the chain of events in motion, to the climactic ending, the suspense level stays high. Mara and Aiden are a likeable couple who find love when they are least expecting it. But it is the killer with his own warped sense of justice and responsibility and his tragic background that steals the show whenever he's around. Mariah Stewart is clearly an author to watch.


---
Day of Fire by Kathleen Nance
Love Spell, May, 2004
Paperback, 372 pages
ISBN 0060560754
Subgenre: Futuristic
Ordering information:
Amazon.com | Amazon.co.uk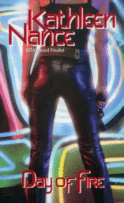 In the year 2176 the world is a very different place. Canada has been quarantined for over a century after a deadly plague swept the country. Day Daniels is a Mountie, one of the country's high tech police officers who has authority to investigate and convict offenders, subject to a repeal of the conviction by a judge. Now a subversive group is working to tear down the borders that have protected people's health for so many years, and Day must put a stop to it. She meets Lian Firebird, a government operative whose specialty is seeking out dangerous infectious diseases and bioweapons. Together, Day and Lian discover a conspiracy that could destroy everything they hold dear. But can Day trust the one man who may hold the clue to saving Canada from a deadly plague?

This second entry in the 2176 futuristic series, after Susan Grant's The Legend of Banzai Maguire, takes a more serious turn. Day Daniels is one of those "stiff-brimmed Mounties" who lives her life strictly by the rules. But the freewheeling Lian Firebird teaches her that sometimes the law doesn't have all the answers, and that playing by the rules isn't always the right thing to do. The futuristic background is well-imagined; readers are sure to enjoy this fast-paced thriller.


---
Unleashed by C.J. Barry
Leisure Books, May, 2004
Paperback, 340 pages
ISBN: 0505525739
Subgenre: Futuristic
Ordering information:
Amazon.com | Amazon.co.uk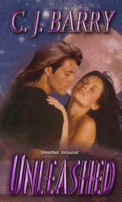 Lacey Garrett is through with men. A computer programmer, she lost her job and her money when her creepy boyfriend took credit for her work and split, leaving behind only his cat Oliver. While working on her last programming project (and only source of income) Lacey answers a posting on an online bulletin board. The next thing she knows, she and Oliver are on board a spaceship with a handsome but grumpy captain who is demanding that she tell him all she knows about the strange artifacts on the planet where they have crash landed. At first unbelieving, Lacey eventually accepts the fact that she's really stuck on an alien's ship with no way home (his transporting equipment has malfunctioned). She decides to help the handsome Zain find out what's going on below the surface of this seemingly abandoned planet, which appears to be a launch point for some kind of subversive activity.

No one writes a futuristic romance quite like C.J. Barry. Her sexy and unique mix of humor, wit, intergalactic politics and steamy passion make for a wildly enjoyable reading experience. A bag packed with C.J. Barry books would be a welcome companion on any summer vacation.


---
Return to Book Reviews Index

** To visit the archives of romance novels reviewed in The IWJ, please click here.