July, 2001
Index
Interviews:
Neil Gaiman
Eric Van Lustbader
Articles:
The Power of Principles, Part IV: Jacobson's Integrity Principle
Research: When and How Much?
Short Writers: Long On Science, Big On Creativity
Features:
What if John Wilkes Booth Shot My Grandfather?
A Roundtable Discussion With Guy Gavriel Kay, Susan Matthews, Sean Russell, and Pamela Sargent
Book Reviews
Events Calendar
Return to This Issue's Index
Return to Homepage
Subscribe
Computer/Web Design Book Reviews
Photoshop 6 Down & Dirty Tricks by Scott Kelby
New Riders, May, 2001.
Trade Paperback, 220 pages.
ISBN: 073571147X
Ordering information:
Amazon.com | Amazon.co.uk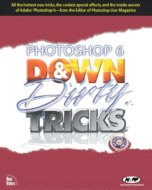 There are plenty of books with Photoshop tricks and tips, but this book focuses solely on providing detailed, illustrated procedures for Photoshop tricks and impressive special effects. Each trick is illustrated with full-color screen shots detailing each specific step. The instruction is clear and concise. In addition to the screen shots and step-by-step instruction for each Photoshop trick, the author also provides practical Photoshop advice in the margins. Categories covered in the book include drop shadows, cool font types, metal and chrome effects, photographic effects, paint and brush effects, advertising effects, background effects and interface design.

Scott Kelby is also the editor-in-chief of Photoshop User, a monthly publication for Photoshop users, and the president of the National Association of Photoshop Professionals. So, he knows a good Photoshop trick when he sees one. Photoshop users will love the large, visual examples that illustrate Photoshop tricks they've always wanted to learn. Kelby's instruction is entertaining and upbeat, and the Photoshop tricks are some of the best you will ever see. Highly recommended.


---
---
Taking Your Talent to the Web by Jeffrey Zeldman
New Riders, May, 2001.
Trade Paperback, 426 pages.
ISBN: 0735710732
Ordering information:
Amazon.com | Amazon.co.uk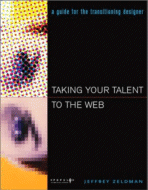 This book provides coverage of web design, and offers useful comparisons between elements of design in the print world and those in the web world. The book also acts a resource for those currently in art/design and other creative industries to learn how to apply their skills to the Web. The book informs designers about the similarities and differences, and what to expect. For example, the book goes into detail about browser-safe colors, the differences between gifs and jpegs, when and why to use them, and also provides coverage of tools (such as Photoshop) that can help you create web artwork. The book also provides information about the work web designers do, including a chapter covering the life cycle of a web design project. Coverage of web development tools and languages, including HTML, style sheets and JavaScript is also provided.

Taking Your Talent to the Web is a great book for artists looking to apply their skills to web design and for amateur webmasters ready to take their skills to the next level. If you already have talent and experience in art and design, this reference can help you expand your skills so you can earn additional income from web design.


---
Windows 2000 Power Toolkit by Barry Shilmover, Stu Sjouwerman, et al.
New Riders, May, 2001.
Trade Paperback, 929 pages.
ISBN: 0735710619
Ordering information:
Amazon.com | Amazon.co.uk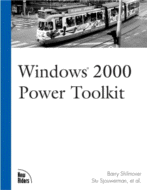 This book covers topics, problems and solutions for users of the Windows 2000 server. The book is organized into six parts, including: an introduction to Windows 2000, Windows 2000 nuts and bolts, networking, system management, Internet access with Windows and an appendix with reference material and information about additional resources. The strength of the Windows 2000 Power Toolkit is that it combines detailed instruction, tips and tricks with software tools from the accompanying CD-ROM. The book refers to and explains these third-party tools on the CD-ROM, as well as Windows operating system tools and utilities, throughout the book. The book also provides comprehensive information on both common and advanced Windows 2000 topics. Authors Barry Shilmover and Stu Sjouwerman both have hands-on experience operating Windows 2000 servers and are extremely knowledgeable on the subject. Windows 2000 administrators and users will find this book and collection of software tools very useful.


---
---

Return to Book Reviews Index

** For an archive of computer books reviewed in The IWJ, please click here.