Book Reviews
Product Reviews
Upcoming Events Calendar
Reader Mail
Return to This Issue's Index
Return to Homepage
Subscribe
Non-Fiction Book Reviews
Page One of Four
AHS Great Plant Guide by DK Publishing
DK Publishing. Feb., 1999.
Trade Paperback, 574 pages.
ISBN: 0789441209.
Ordering information:
Amazon.com. | Amazon.co.uk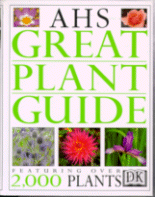 The AHS Great Plant Guide published by DK Publishing in exactly what you need to take on your annual pilgrimage to your favorite garden center. At 4.5 inches by 5.5 inches and 1.5 inches thick, this handy little volume can accompany the gardener to the local nursery in a large coat pocket or in a purse or tote. Make no mistake, this is a comprehensive book of 574 pages which include the American Horticultural Society Plant Heat Zone Map, the USDA map of hardiness zones, as well as helpful lists of plants for rock gardens, clay soil, alkaline soil, acidic soil and a host of other specialized types of gardens. The full color photographs with symbols that explain the requirements of each plant will empower the weekend garden shopper and make the trip more successful.

Take this book along on your next visit to the nursery, and you will be able to make good choices for your own little piece of paradise. Or give this little tome as a gift to someone who loves to garden. It is sure to please.

--Sarah Reaves White


---
---
Diamonds Under Pressure by Barry J. Farber
Berkley, September 1998.
Paperback, 181 pages.
ISBN: 0789437600.
Ordering information:
Amazon.com. | Amazon.co.uk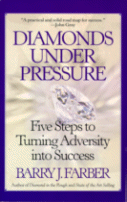 This self-help book focuses on how to turn one's personal struggles into accomplishments. Author Barry Farber, who is also a speaker, talk-show host and sales and management consultant to many top companies, provides practical advice and inspiration on how to achieve success through instruction and examples. In the book, Farber introduces the concept of FOCUS, a tool that helps people regain control of their lives. FOCUS includes the components: Foresight and Faith, Organization, Concentrated Effort and Courage, Understanding and Seeding and Service. The book provides instruction on numerous concepts that allow an individual to constructively face their problems through FOCUS including: positive dreams and thoughts, writing out a business plan for life, calculated risks, understanding stress and pressure, becoming an expert in your field, learning from yourself and giving back to others. A final chapter in the book provides a valuable summary of the sixty essential facets of FOCUS. Diamonds Under Pressure is a practical guide to learning how to understand the pressures around you, how to create an organized plan to confront them and achieve goals and fulfill your dreams.


---
---

Nonfiction Reviews
Page One | Page Two | Page Three | Page Four

Return to Book Reviews Index

** To visit the archives of nonfiction books reviewed in The IWJ, please click here.