It is important to have a compelling cover for your book. The cover is generally the first thing that catches the eye of a potential reader. This is true in the bookstore and online.
There are several ways a book cover is created for your book:
Your publisher creates and designs your book cover
You create and design the book cover yourself
You use the online tools provided by the self-publishing company
You use other book cover software/tools to create the cover
You hire a book cover designer to create the cover
You use a combination of the above methods
The first option is for authors who have a traditional book publisher. The author usually gets to provide input on the book design but the publisher will use their artists and designers.
In self-publishing creating a book cover is entirely up to
you
. Writers who are self-publishing books usually need the help of a designer or a software tool. Authors are usually not also artists, but you can opt to create your own book cover if you have artistic talent. You can also use a combination of tools to create the cover, such as graphics software and the book cover tools provided by your self-publishing company.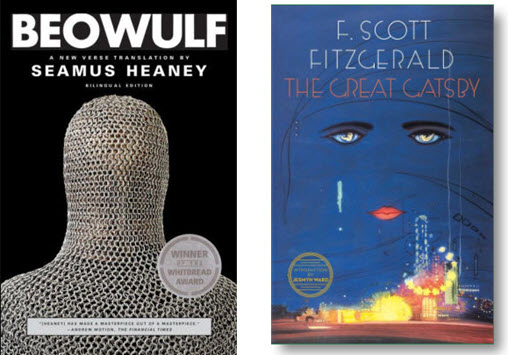 The images above show the covers for
Beowulf
and
The Great Gatsby
. The Gatsby cover was created by Spanish artist Francis Cugat. Both these covers show how a photograph, attractive fonts and original artwork can lead to a cover that will make a reader want to buy the book. Barnes & Noble ranks these cool looking covers among the ten best of all time in a recent
article
. Dan Poynter says in his article, "
Covers Sell Books
," that "packaging is everything" and "everyone judges a book by its cover."
Type of Covers
Different genres tend to have different cover themes. You will probably want something unique for a fantasy novel but a cover using only fonts and color schemes can work for a business book. Check the bookstore and see what other authors in your genre are doing for their covers.
You can also use Google images to get an idea of covers for different genres. A search for
romance novel covers
shows you the trend is to have models on the cover. A search for
business book covers
shows you the covers are more about words, colors and layout. Some make use of small pictures. On
fantasy novel covers
you will notice that there is more use of original artwork.
You will want a design that fits with the genre of your book so you can attract the readers of your genre. The big publishing houses are making book covers this way for a reason and the reason is to sell as many books as possible.
Here is an interesting video about cover art design from art directors and creative directors at Random House. The video gives you an idea of how much thought and work goes into book covers for major book releases. Robbin Schiff, executive art driector for Random House, says, "Our job is not to illustrate the book. Our job is to intrigue the consumer."
Book Cover Designers
The very best way to get a unique and attractive book cover is to come up with a concept and hire a book cover designer to execute it. This is also usually the more expensive option but it will save you time.
A book cover designer can create any type of cover you need. The most involved method will be if you have the designer create or acquire unique artwork for your book. Be sure to determine the costs upfront, including the price for any stock images and custom artwork you plan to use for your cover.
Several places you can find designers online include
Upwork
,
Fiverr
,
Reedsy
and
99designs
. You can also find designers at conferences and by asking your self-published author friends which book designers they use. Your self-publisher may also have some designers or a design firm they recommend.
Book Cover Creators
Many of the ebook publishers and self-publishers provide tools that make it easy to create a cover for your book. They may also have third-party artwork available that you can use. You can then create a cover using the provided artwork and combining it with different fonts and layouts using the provided software. For example, Amazon's self-publishing service
Kindle Direct Publishing
has cover creation software called Cover Creator. You can watch a video about how to use Amazon's Cover Creator
here
.
There are also book cover creator tools available online. Here are few of the book cover creator tools:
here
.
There are also many tutorials online to help you create book covers with Microsoft Word, such as "
How to Create a Full Print Book Cover in Microsoft Word
," from CreativIndie. You can also find Microsoft Word book cover templates with a quick online search. Word can even be used to
make an entire chapbook
.
Creating a cover yourself is the cheapest method but it will also take the most of your time. There are tools to help you but there is still a learning curve, especially if you have little experience using word processing and graphics tools. This is time taken away from writing and creating additional books. On the plus side, you will be learning a new skill.