Writer's Guide to Book Editors, Publishers and Literary Agents 2003-2004
by Jeff Herman
Prima, July, 2002.
Trade Paperback, 892 pages.
ISBN: 076153735X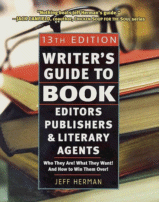 The new edition of the annual
Writer's Guide
offers a plethora of detailed information for would-be authors about agents, editors and publishers. The publisher listings are divided into four sections: U.S. publishers, university presses, religious, spiritual, and inspirational publishers and Canadian publishers. The publisher listings include contact information and names of editors, full write-ups about the publisher, including recently published books, a description of any imprints and background information about the editors. Some questions and answers are with a specific editor are also provided. The second section in the book covers agents. Like the publisher listings, agent listings also include contact information and a write-up which gives detailed information about each agent or agency. Some of the agents also answer question and answers, and give their descriptions of what makes a "Client from Hell" and what makes a "Dream Client". A final section in the book contains essays from industry insiders covering issues such as getting an agent, book promotion, contracts, book doctors and self-publishers.
The
Writer's Guide
is written by New York literary agent
Jeff Herman
, owner of the Jeff Herman Literary Agency. The agent and publisher listings are invaluable; they contain inside information that you won't find elsewhere. When looking for an agent or publisher, it is crucial that writers target the right person who publishes that writer's type of book. The
Writer's Guide
takes the guesswork out of pitching, and is an essential tool for aspiring authors.
Writer's Guide to Book Editors, Publishers and Literary Agents 2003-2004
is available for purchase on
Amazon.com
Note: We may receive a commission from sales made through product links in this article.
This review was published in the October - November, 2002 of The Internet Writing Journal.
Copyright © Writers Write, Inc. All Rights Reserved.