My Enchanted Enemy
by Tracy Fobes
Sonnet Books, March, 2002.
Paperback, 343 pages.
ISBN: 0743412796
Subgenre: Paranormal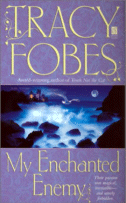 In 1810 Shoreham, England, the ancient gypsy families have become respectable gentry, after years of giving up their nomadic ways. Cole Strangford is the last male heir of his Romany clan and must marry and produce an heir to satisfy the entailment on the estate. Years ago, Cole's ancestor cursed the St. Germain family to become Sea People, after the St. Germaines stole the Sea Opal from the Strangfords and murdered most of the clan. The curse stipulates that it will end when the two clans blood is mingled. Naturally, the Strangfords are determined that none of their men are seduced by one of the shape-shifting sea maidens. Cole is not sure he believes in the curse, but his family certainly does. The beautiful Juliana St. Germain is just as determined to end the curse that has kept her family less than human for all these years, and bound to the sea. Masquerading as a good Romany bride, Juliana meets and falls in love with Cole. She never meant to fall in love with her family's longtime enemy, and now she is terrified that when he learns her identity, their future will be destroyed.
Tracy Fobes
has made a name for herself as one of the premier paranormal romance writers today. From
Touch Not the Cat
to
Daughter of Destiny
, Ms. Fobes has demonstrated her vivid imagination, skill at characterization and ability to create a believable paranormal tale.
My Enchanted Enemy
has passion, magic and two fascinating lead characters which are sure to steal your heart away.
My Enchanted Enemy
is available for purchase on
Amazon.com
Note: We may receive a commission from sales made through product links in this article.
This review was published in the July-August, 2002 of The Internet Writing Journal.
Copyright © Writers Write, Inc. All Rights Reserved.