Lara Croft Tomb Raider: Tech Manual
by Michael Jan Friedman
Pocket Books, June, 2001.
Paperback, 128 pages.
ISBN: 0743423542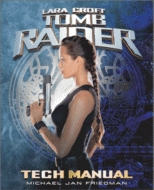 James Bond has "Q" and Lady Lara Croft has Bryce, her one-man high tech engineering department whose sole purpose is to outfit her for her amazing adventures. Tomb raiding is no easy thing; a girl's gotta have all her high tech gadgets and gizmos in order to beat the bad guys and get the treasure. Bryce is a computer and engineering expert who lives in a well-equipped trailer outside Lady Croft's mansion. Lara has some really cool equipment: from her dual holsters for her .45s, her bungee-cord equipped living room, parachutes, high-speed motorcycle and truck and even a backpack with enough tricks to make old "Q" green with envy.
The Tech Manual features an ongoing conversation between Lara and Bryce as they discuss Lara's needs for her next adventure. With stills from the feature film, sketches of Lara's equipment and some snappy repartee, the Tech Manual -- ably imagined by Michael Jan Friedman -- is a must-have for Tomb Raider aficionados who long to know the inner secrets of Lara's high-tech accessories.
Lara Croft Tomb Raider: Tech Manual
is available for purchase on
Amazon.com
Note: We may receive a commission from sales made through product links in this article.
This review was published in the August, 2001 of The Internet Writing Journal.
Copyright © Writers Write, Inc. All Rights Reserved.