How to Cook
by Delia Smith, Miki Duisterhof, Photographer
DK Books, June, 2001.
Hardcover, 496 pages.
ISBN: 0789471868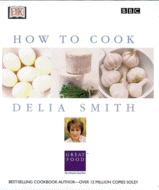 In these days of stressed-out working moms and high tech burnout, it's no wonder that dinner for the average child usually ends up being a McDonald's Happy Meal. In fact, we've become so rushed as a society that some think that the home cook is about to go the way of the dinosaur. But British chef Delia Smith asserts that it really doesn't take that much time to prepare a healthful and delicious home made meal, and her latest book backs up her proposition quite firmly.
How to Cook
is a combination of two separate volumes originally published in the UK. In Book One she starts with the basics, giving detailed explanations of the staples of all cooking: eggs, flour, potatoes, rice and pasta. Book Two continues with the preparation of fish, meat, poultry, fruit, vegetables, cheeses and chocolate.
As always, part of Delia Smith's charm (other than the fact that she is a fantastic chef) lies in her winning personality and ability to relate to her readers. In Chapter 12 "Fish Without Fear" she writes, "Why is it that people are afraid of fish?….I feel my task here is to reassure those of you who are afraid and try to provide a sort of simple introduction to the whole subject of cooking fish, which will hopefully persuade you to try." And try you will, after you see some of Miki Duisterhof's incredible photographs of Roasted Butterflied Shrimp in Garlic Butter and Roasted Salmon Fillets with a Crusted Pecorino and Pesto Topping. And if fish really isn't your thing, you can always dive into Mini Boefs en Croute, Broiled Chicken Kebabs with Gremolata or Toasted Goat Cheese with Blackened Sherry-Vinegar Onions, followed by Melting Chocolate Puddings or A Very Chocolatey Mousse.
The ingredients are listed down the left side of each page for easy reading, and are listed in both American and British measurements. The directions are easy to follow, and Delia peppers the recipes with funny and useful tips and anecdotes. This is an absolutely fantastic cookbook for both novices and advanced cooks alike. Its emphasis on fresh foods, tasty flavors and easy preparation will make it a much-used reference in the kitchen. Highly recommended.
How to Cook
is available for purchase on
Amazon.com
Note: We may receive a commission from sales made through product links in this article.
This review was published in the August, 2001 of The Internet Writing Journal.
Copyright © Writers Write, Inc. All Rights Reserved.