Forbidden Magic
by Cheyenne McCray
St. Martin's Press, December, 2005.
Paperback, 440 pages.
ISBN: 031293761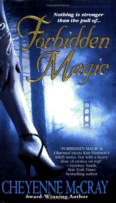 White witch Silver Ashcroft belongs to the traditional, conservative D'Anu Coven which doesn't allow its members to practice gray -- much less black magic. Originally descended from the ancient Druids, the local D'Anu coven has grown fearful of their powers and somewhat passive. Silver, who has an independent streak a mile wide, is not one to abide by a bunch of rules that she considers antiquated. When she's not working at the local bakery and store that provides a roof over her head, she assists the local Paranormal Special Forces from time to time (a division of the SFPD). And sometimes in order to catch the baddies, a little bit more firepower than simple healing herbs is in order. During a SWAT raid to recover a kidnapped girl from demons, Silver encounters a Tuatha D'Danann warrior named Hawk. Hawk has come from a parallel dimension to warn the witches about a pending invasion of the very dangerous, banished demons who are ready for revenge and to take over San Francisco. Silver agrees to work with the D'Danann, but her coven is outraged, as working with the Fae is prohibited. Silver, Hawk and a few loyal friends go up against the warlock Darkwolf, who works for Balor, the God of Death, and a frightful lot of shapeshifting demons who take over a human bodies, murder the human inside, then impersonate the hosts as they wreak havoc in the city.
Cheyenne McCray combines the magic and demon-slaying of
Charmed
with hard-edged police procedural elements and an erotic edge to create this first entry in a hot new paranormal series fantasy that will appeal to fans of Kim Harrison and Laurel K. Hamilton.
Forbidden Magic
is available for purchase on
Amazon.com
Note: We may receive a commission from sales made through product links in this article.
This review was published in the April, 2006 of The Internet Writing Journal.
Copyright © Writers Write, Inc. All Rights Reserved.