Butterflies in the Garden
by Carol Lerner
HarperCollins, May, 2002.
Picture Book, 32 pages.
ISBN: 0688174787
Ages 5 -8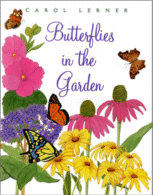 Every child loves butterflies. They can be followed as they go about the garden, and they are so beautiful that children are irresistibly drawn to them. Carol Lerner has written and illustrated the kind of book that a parent (or grandparent) can take into the back yard and share with children from spring through summer. This book would also be very helpful for a classroom, if the school is fortunate enough to have a children's garden.
This beautiful book begins with the end papers, where thirty-nine different commonly seen butterflies are pictured and labeled. Each page is a lovely illustration of different butterflies and of the flowers that attract them . First the parts of a butterfly are explained, and in the text below the motivation of the insect is explained in simple terms. Next, the different kinds of butterflies are discussed and illustrated. Stunningly colored pages open up showing all the wonderful flowers that will attract each butterfly. Children will eagerly take this book to the seed rack at the local nursery so they can plan their spring garden which will attract such beautiful guests. Plants that can be bought at the nearest nursery center are illustrated, and most of them will be readily recognizable by all of us. Not only are commonly-known flowers mentioned, but other little known ways of attracting butterflies are also mentioned. How many of us know about a butterfly puddle?
Next, Ms. Lerner instructs us about the kind of plant a butterfly seeks when it is ready to lay eggs. Some of the plants that suburban gardeners may call weeds are actually just the plants that a butterfly may be searching for to lay its eggs. The miracle of metamorphosis is explained in equally beautiful illustrations. Every child loves to watch this beautiful process.
Carol Lerner has written a book that is skillfully combines science and beauty.
Butterflies in the Garden
is a book that will bring much joy to children and the adults who love to share their world of wonder and adventure with a child.
-- Sarah Reaves White
Butterflies in the Garden
is available for purchase on
Amazon.com
Note: We may receive a commission from sales made through product links in this article.
This review was published in the June, 2002 of The Internet Writing Journal.
Copyright © Writers Write, Inc. All Rights Reserved.