Writing Romantic Fiction
by Daphne Claire and Robyn Donald
A&C Black, .
paperback, 122 pages.
ISBN: 0713648872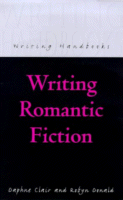 Writers looking for information about how to write a romance novel will find a variety of helpful information in
Writing Romance Fiction
. Written by two popular New Zealand romance novelists, Daphne Clair (aka Laurey Bright) and Robyn Donald, the book offers writing instruction from many different viewpoints; the two authors have very different writing styles and they also include methods used by other romance writers. Daphne Clair and Robyn Donald have written over fifty books each. Here they offer what they have learned throughout their careers and through the courses they have taught. There are valuable tidbits on many topics, including characterization, tension, pacing, setting, emotional intensity, editing and rewriting. Some highlights include a list of classic romance plot situations, an editing and rewriting checklist, a list of clichés to avoid and a fiction techniques section which provides a collection of helpful romance fiction writing tips. Aspiring romance authors will find Ms. Clair's and Ms. Donald's advice to be extremely helpful.
Writing Romantic Fiction
is available for purchase on
Amazon.com
Note: We may receive a commission from sales made through product links in this article.
This review was published in the April, 2001 of The Internet Writing Journal.
Copyright © Writers Write, Inc. All Rights Reserved.