Where the Action Was
by Penny Colman
Crown, February, 2002.
Hardcover, 128 pages.
ISBN: 0517800756
Ages 4-8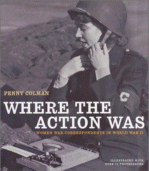 As we rediscover the conflagration that was World War II, all the different layers of endeavor are beginning to be recognized and highlighted. We have discovered black aviators, women aviators, and now Ms. Colman has chronicled the, until now, largely unrecognized importance of American women who got to the front lines any way they could, and sent back insightful reports on events both large and small.
In her preface Ms. Colman points out that the first female correspondents were on the battlefields as early as 1848, when Margaret Fuller reported on the Italian Revolution and Jane Swisshelm was there to report on the conditions of Union military hospitals during the American Civil War. Mary Roberts Rinehart covered World War I in 1914 and Peggy Hull covered American military action on the Mexican border, and later she was issued the first Correspondent's Pass by the U. S. Government so that she could cover the American military action in Siberia in 1918. Nelly Bly, the most famous correspondent of all, covered World War I, and the families who waited back home relied on her reporting to explain what was happening to their loved ones who were so far away.
In World War II American women correspondents added a broadened view of what war was really like, and their sensitivity brought out facts that might otherwise have been overlooked. Martha Gelhorn, reporting on the Spanish Civil War, went to the hospitals to interview the wounded soldiers and civilians. She wanted to write about the effect that war had on everything it touched, feeling that this might help people demand that this kind of suffering had to be stopped. It was Sigrid Schultz who early in the 1930s reported on Adolf Hitler's seizing of control of schools, labor unions, factories, courts and radio stations. Fluent in several European languages, she was able to write her dispatches from Berlin. She even consulted Adolf Hitler's astrologer and learned that he was actually considering an alliance with the Soviet Union. His next step was to agree secretly with the Soviet Union to conquer and divide Poland between the two countries. The reader will find many examples of determination and bravery in these women's stories. Clearly, they deserve recognition for the role that they played in shaping public opinion in the United States and in recording the realities of war for all to read.
Where the Action Was
is a book that will leave the reader wanting to know more about these remarkable women. Ms. Colman has thoughtfully provided stories of what happened to these women after they left the battlefields, and these leave us with closure. One is left to wonder if the battlefield experiences were too terrible to allow those who recorded them to live ordinary lives. Ms. Colman has collected a very valuable record for us to add to the most influential experience of the twentieth century, World War II.
--Sarah Reaves White
Where the Action Was
is available for purchase on
Amazon.com
Note: We may receive a commission from sales made through product links in this article.
This review was published in the March, 2002 of The Internet Writing Journal.
Copyright © Writers Write, Inc. All Rights Reserved.