When Good People Write Bad Sentences: 12 Steps to Better Writing Habits
by Robert W. Harris
Griffin Books, June, 2004.
Paperback, 240 pages.
ISBN: 0312328044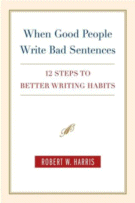 Twelve step programs have been written for many afflictions, from overcoming bad habits all the way to working one's way out of a serious addiction. Now, with Robert W. Harris's book ready to offer an entertaining twelve step program, sentence failure can be overcome with courage and conviction.
Most of us are called upon to write things that will be read by others from time to time. We do not enjoy this chore, and many of us agonize over it, or just try to push the job off onto another person. Yet there is no denying that some of the most successful people in history have also been regular writers. Few of us can hire our own speechwriter. A self-help book is the best way to approach the problem, but reading a book about grammar and writing is a prospect so boring that few of us want to attempt it. Some of us will remember with loathing sitting through sentence diagramming in high school. Mr. Harris has decided to help with a witty guide that not only inserts a bit of levity into the subject, but also gives succinct and easy to follow rules at the end of each lesson.
Get some help. You too may have had your writing skills polluted by the ubiquitous onslaught of advertising copy. All of us have committed a clumsy and incomprehensible sentence from time to time. A good grammar review is aerobics for writing skills.
--Sarah Reaves White
When Good People Write Bad Sentences: 12 Steps to Better Writing Habits
is available for purchase on
Amazon.com
Note: We may receive a commission from sales made through product links in this article.
This review was published in the May-June, 2004 of The Internet Writing Journal.
Copyright © Writers Write, Inc. All Rights Reserved.