The Well-Fed Writer
by Peter Bowerman
Fanove, August 2000.
Trade Paperback, 282 pages.
ISBN: 0967059844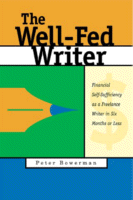 As the clever title suggests, this book offers suggestions, advice and examples that can help freelancers make a good living. The book focuses on writing for corporations, which typically offer the biggest paychecks. Some of these types of writing include writing ad copy, newsletters, business letters, event scripting, video scripting, ghost writing, trade articles, technical writing, speech writing, website copy and writing brochures for corporations. So, how much can you make? According to the guide's "How Much Do I Charge?" chapter, creative writing such as marketing work and ad copy can pay in the $50-$125/hour range and video scripting can pay $80-200 per-finished-minute (pfm). Good pay ranges can be earned for the other types of corporate writing, as well. Information and advice about negotiations, written contracts, bid letters, charging for revisions and kill fees is also given in this informative chapter. Another very helpful section in the book includes sample business letters, marketing letters, direct mail, brochures, and articles.
Peter Bowerman has only been a freelance commerical writer for six years, but in that six years he has done some amazing things and written a large amount of material for excellent pay. Bowerman has freelanced for a corporate client list that includes the Coca-Cola Company, MCI, Holiday Inn, Discover Channel and American Express. In addition to sharing his inspiring and practical tips and thoughts, Bowerman also offers insight into the lifestyle, the clients, self-employment and the technical gadgets and software needed to make a freelance career a success. You may be more interested in writing poetry or fiction, but Bowerman tells you it's better to pay the bills with commercial freelance writing first. "If you are trying to go the "purist" route -- writing only articles and books -- and you end up moonlighting to make ends meet, you might as well do something closer to your field that actually pays well. Then, with the bills paid, you've got the time and space to pursue that arena of writing which really lights you up -- that future Oscar, Pulitzer, Emmy or Tony award-winning screenplay, novel, TV series or Broadway play," suggests Bowerman. Bowerman can't do the work for you, but he does tell you everything you need to know about corporate freelancing in
The Well-Fed Writer
.
The Well-Fed Writer
is available for purchase on
Amazon.com
Note: We may receive a commission from sales made through product links in this article.