The Pleasure Master
by Nina Bangs
Love Spell, June, 2001.
Paperback, 358 pages.
ISBN: 0505524457
Subgenre: Time Travel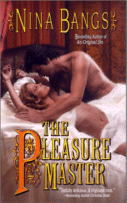 New York hairdresser Kathy Bartlett is not feeling the Christmas spirit in the least. Her ex-husband is suing her, and all of her recent dates have been disaster. When her car breaks down on Christmas Eve after she finishes buying toys for the local children's shelter, she feels the whole experience just proves her philosophy: men and cars have a lot in common. They have great form, no function and tend to overheat at inopportune moments. Jokingly, she tells the toy she just bought that she wishes for warmth, convenience and a subservient man. Before you can say "Back to the Future," Kathy has been transported back in time to 1542 Scotland with her strange toy, which she names Peter. Peter quotes famous lines from movies, and is much more than he seems. Kathy immediately meets Ian Ross and his two brothers who are vying to take over as the next Pleasure Master of the small town (the last Pleasure Master is retiring as he had the misfortune to fall in love and get married). Women come from miles around to obtain the services of the Pleasure Master who is legendary for his incredible seductive powers and sexual prowess. In order to win the contest, the Pleasure Master must seduce Kathy, but she's only interested in getting back to 2001 and her clients who desperately need her help to avoid bad hair days.
The Pleasure Master
is an irreverent, sexy and hilarious romp through 1542, Scotland. Kathy, the hairdresser who never travels anywhere without a butane-powered curling iron and some good mousse, is a feisty and funny heroine who is a perfect foil for the seductive Ian. Peter, the toy who spouts off appropriate movie lines adds to the fun. Author Nina Bangs has done a fabulous job of creating a funny, sexy and off-beat romance that time travel aficionados will absolutely relish.
The Pleasure Master
is available for purchase on
Amazon.com
Note: We may receive a commission from sales made through product links in this article.
This review was published in the July, 2001 of The Internet Writing Journal.
Copyright © Writers Write, Inc. All Rights Reserved.