The Merlin Conspiracy
by Diana Wynne Jones
Greenwillow Books, April, 2003.
Hardcover, 464 pages.
ISBN: 0060523182
Ages Young Adult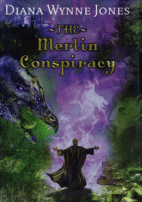 Set in the same fantasy world as
Deep Secret
,
The Merlin Conspiracy
also involves adventures in the multiverse: a system of parallel earths which are managed by the Magids. The Magids balance the negative and positive magics between the worlds, so that the system remains intact. On the world of Blest, a parallel England where the King and his court constantly travel around the country to keep things in order, a conspiracy has succeeded in replacing the real court Merlin with a false one in a bid for massive power. Roddy, a young girl whose parents are both Court Wizards (her father is the court weatherman), partners with her friend Grundo and Nick, a young man from the regular Earth, in order to stop the plotters, which threatens the very fabric of the mulitverse with its unbalanced magic.
Nick, Grundo and Roddy make an excellent team, although they are from very different words. They all have inherent magical powers, but are just learning how to use them. Ms. Jones' magical systems and fantasy worlds are extraordinary and her writing style is inventive, agile and very, very funny. This is fantasy which will resonate with both adults and young readers alike.
The Merlin Conspiracy
is available for purchase on
Amazon.com
Note: We may receive a commission from sales made through product links in this article.
This review was published in the April-May, 2003 of The Internet Writing Journal.
Copyright © Writers Write, Inc. All Rights Reserved.