The Karate Way
by Gary Hellman
Doubleday, April 2001.
Picture Book, 32 pages.
ISBN: 0385327420
Ages 6 and up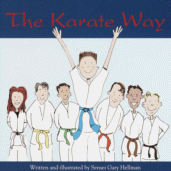 A young boy tells the story of how his life is transformed by karate in this inspirational tale by martial arts master Gary Hellman. Intimidated by his new teacher at school, "Killer Miller," the little boy worries about a new activity that his mom has signed him up for after school the next day -- she won't say what it is. He hopes it's not football (he's not strong enough), or tennis (he's not fast enough) or basketball (he's not tall enough). When he gets to the class, he immediately likes the instructor, who has a big smile and is called "Sensei." Gradually, the boy learns self-confidence, and he gains enough strength, speed and flexibility to do any sport he wishes.
Gary Hellman tells an upbeat and inspirational story which young boys and girls are sure to relate to. The concepts taught in karate -- respect for elders, especially the Sensei, that martial arts are only to be used for self-defense, and the building of self-confidence -- are all important issues for children to learn. The simple drawings by author are cheery and colorful, and add to the appeal of the book, which should be a hit with the 5 and up set.
The Karate Way
is available for purchase on
Amazon.com
Note: We may receive a commission from sales made through product links in this article.
This review was published in the June, 2001 of The Internet Writing Journal.
Copyright © Writers Write, Inc. All Rights Reserved.