The Fantasy Writer's Companion
by Tee Morris and Valerie Griswold-Ford
Dragon Moon, October, 2004.
Paperback, 280 pages.
ISBN: 1896944159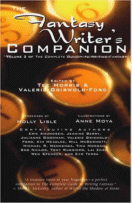 The
Fantasy Writer's Companion
is a terrific book for aspiring fantasy authors. It provides information about world-building using Asian cultures and Arthurian legends. There are chapters about incorporating elements from other genres into the fantasy: horror, romance and mystery elements can be folded into the fantasy short story or novel. A chapter on writing fantasy for young readers is also provided. The
Fantasy Writer's Companion
is a sequel to
The Complete Guide to Writing Fantasy
(published in 2003), which is another wonderful book for fantasy writers. The
Complete Guide to Writing Fantasy
includes information about building fantasy worlds and all the elements of those worlds: magic, weapons, medieval life, mythology, religion and combat. In both of these books, the chapters are detailed and practical. They are written by established and respected fantasy authors. Together, these two books will help jump start any aspiring fantasy writer's career. With all the excellent ideas for creating exciting stories set in original fantasy worlds populated with unique characters and creatures, all the writer has to provide is the hard work of writing. Highly recommended.
The Fantasy Writer's Companion
is available for purchase on
Amazon.com
Note: We may receive a commission from sales made through product links in this article.
This review was published in the January-February, 2005 of The Internet Writing Journal.
Copyright © Writers Write, Inc. All Rights Reserved.