The Faeries of Spring Cottage
by Wendy Froud and Terri Windling
Simon and Schuster, May, 2003.
Hardcover, 48 pages.
ISBN: 074320235X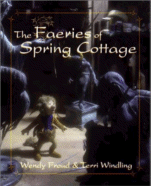 Sneezlewort Rootmuster Rowanberry Boggs the Seventh, the brave little root faery from
The Winter Child
is back in another enchanting adventure from the talented team of artist Wendy Froud (creator of Yoda) and award-winning folklorist Teri Windling. Sneezle has never seen a human being, although he's heard they are loud and smell like fish. One day as he is on the outskirts of the Old Oak Wood, he is attacked by some strange twig men. When he runs to hide, he gets trapped in a ten year-old girl's backpack and carried back to her home, Spring Cottage. Since the girl Rowan's grandmother is in the hospital, the faeries of the house have been running wild, with boggarts terrorizing the people and the house being a mess. Rowan's mother doesn't believe in faeries and Rowan can't see them. Sneezle must be very brave to find a way to help the inhabitants of Spring Cottage, show Rowan the magic she has inside her, and get home to his beloved Old Oak Wood.
Using dolls and set designs by Wendy Froud, the whimsical story is illustrated with fantastic photos of Sneezle, Rowan (who is a live model) and all the denizens of Spring Cottage. The expressions on the faeries' faces are marvelously real and the detail is exquisite. This is a magical book that faery lovers of all ages will cherish.
The Faeries of Spring Cottage
is available for purchase on
Amazon.com
Note: We may receive a commission from sales made through product links in this article.
This review was published in the September-October, 2003 of The Internet Writing Journal.
Copyright © Writers Write, Inc. All Rights Reserved.