The Dragon King's Palace
by Laura Joh Rowland
St. Martin's Minotaur, April, 2003.
Hardcover, 340 pages.
ISBN: 0312282664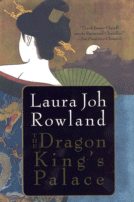 Sano Ichiro, the Shogun's Most Honorable Investigator of Events, Situations and People faces his worst nightmare when his wife, Reiko, is kidnapped by a mysterious bandit who calls himself the Dragon King. The Dragon King also kidnapped the Shogun's acid-tongued mother, Lady Keisho-in, Lady Yanagisawa, the wife of the Shogun's wily chamberlain, and Midori, the pregnant wife of Sano's assistant, Hirata. The kidnapping occurred during the ladies' pilgrimage to Mount Fuji, which no one really wanted to participate in, but went out of fear of offending the powerful and autocratic Lady Keisho-in. Sano's investigation is hampered by the Shogun's ridiculous suggestions as to how to proceed, as well as the hidden agendas of Lord Yanagisawa and his protégé. As everyone fights to gain the glory of rescuing the ladies and appeasing the Shogun's wrath, Sano is terrified that the women's safety will be compromised by his rivals' incompetence and greed.
This is the eighth entry in this fascinating mystery series set in 17th century Japan, during the Tokugawa regime. Sano struggles to do his job, but it's not easy with all the jockeying for power at the Shogun's court that goes on. Sano's wife Reiko is no shy lotus flower, sitting around waiting to be rescued. As Sano investigates, Reiko launches her own dangerous schemes to get the women rescued. Laura Joh Rowland brings the people and customs of ancient Japan to life. From the bold Reiko to the dangerously psychotic Lady Yanagisawa to the weak and vacillating Shogun, Ms. Rowland skillfully creates characters with depth and complexity. This well-imagined story ends with a cliffhanger, leading to a potential political upheaval in the next book.
The Dragon King's Palace
is available for purchase on
Amazon.com
Note: We may receive a commission from sales made through product links in this article.
This review was published in the June-July, 2003 of The Internet Writing Journal.
Copyright © Writers Write, Inc. All Rights Reserved.