The Bravest Woman in America
by Marisa Moss, Illustrations by Andrea U'RenAn
Tricycle Press, July 12, 2011.
Hardcover, 32 pages.
ISBN: 1582463697
Ages 4-8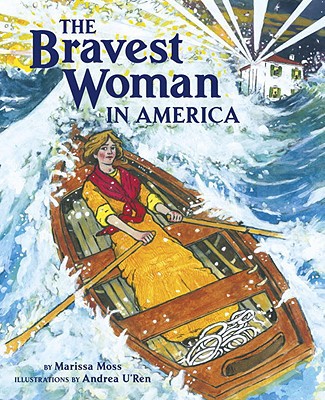 Some heroes in history were young girls, and both girls and boys need to be aware of it. The Bravest Woman in America will bring new respect for the part women have played in our history, and it will surely instill a new since of pride in girls.
The inspiring story of 19th-century Rhode Island lighthouse keeper Ida Lewis as written by Marissa Moss has much to teach. As a young girl, Ida loved to watch the sea in all its moods: from stormy and cold to calm and still. From her father, she learned all the different duties and responsibilities of a keeper of a lighthouse. Rowing was hard, and then there was much to do related to keeping the light strong. None of these duties is easy.
Armed with a love of the sea and strong in the skills she needed, Ida was able to take over when her father fell ill. At the age of 16, Ida rescued four boys from a hungry, stormy ocean as night rapidly approached. This was an almost impossible task.
Not only does this true exciting story illustrate how preparation always counts, it also shows young readers how very important it is to learn everything possible about something that has great interest and fascination. The story of Ida, who rescued many people in trouble in the turbulent waters that surround the lighthouse over the years, is a true account. She was later honored by the U.S. Congress with the Congressional Life Saving Medal and the American Cross of Honor and dubbed "The Bravest Woman in America." The fact that Ida Lewis was an actual person gives power to her story, and inspiration to young minds.
-- Sarah Reaves White


The Bravest Woman in America is available for purchase on Amazon.com


Note: We may receive a commission from sales made through product links in this article.