Still Life
by Melanie Jackson
LoveSpell, August, 2004.
Paperback, 327 pages.
ISBN: 0505526085
Subgenre: Paranormal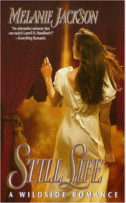 Melanie Jackson travels for the fourth time to her alternate reality version of the United States, where magic is real, the remnants of the Faerie kingdom are dispersed after a terrible natural catastrophe and the goblins plot and plan to take over the government. Nyssal Laszlo is a young woman who can dreamwalk; she can enter the dreams of others and even visit the past by projecting her mind in a dream state. But Nyssal has some strange memory lapses; she can barely remember any of her childhood, and what she can remember is fragmented. Determined to find out the secret to her past, Nyssal finds a rare relic which immediately makes her a target of the goblins. Assistance arrives in the darkly handsome form of Abrial, the assassin of the Unseelie Court who has been sent by Jack Frost, the death fey, to help Nyssal find sanctuary. Abrial has a strange attraction to Nyssal, but his past is too full of death and destruction for him to reveal his full nature to any woman. Nyssal and Abrial find love and adventure while on the run from the goblins who want something that may be too precious for Nyssal to give up.
Melanie Jackson's urban fantasy series kicks into high gear with the addition of Abrial and Nyssal to the panoply of characters which inhabit Ms. Jackson's world. Displaying a dry humor, wit and knack for action scenes, the author keeps the pacing breathless and the sensuality quotient high in this extremely absorbing story.
Still Life
is available for purchase on
Amazon.com
Note: We may receive a commission from sales made through product links in this article.
This review was published in the September-October, 2004 of The Internet Writing Journal.
Copyright © Writers Write, Inc. All Rights Reserved.