Star Trek: The Starfleet Survival Guide
by David Mack, Illustrations by Timothy Earls
Pocket Books, September, 2002.
Trade paperback, 177 pages.
ISBN: 0743418425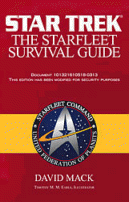 Millions of people have bought the
Worst Cast Scenario Survival
handbooks which provide advice about how to handle all kinds of Earth-bound emergencies. Now David Mack has had an absolutely inspired idea: he presents us with the recently de-classified
Starfleet Survival Guide
, which is the guide for Starfleet officers in sticky situations. This handy book is divided into sections: Standard Issue Equipment - Nonstandard Uses; Unconventional Medicine; Dangerous Life-Forms; and Extreme Scenarios. Every contingency has been provided for: how to evade the pheromonal, psychotropic effects of Elaasian women's tears, how to survive an attack by a Crystalline entity, how to navigate inside a Borg cube, how to recognize and treat the symptoms of temporal narcosis (temporal problems seem to crop up quite often and its crucial that one be prepared), how to erase humanoid short-term and long-term memories, how to seal quantum fissures and many, many more. Written in a straight-forward and easy to read style, this is the manual to own for anyone aspiring to join Starfleet or who is getting ready to venture into the uncharted realms of space.
Star Trek: The Starfleet Survival Guide
is available for purchase on
Amazon.com
Note: We may receive a commission from sales made through product links in this article.
This review was published in the October - November, 2002 of The Internet Writing Journal.
Copyright © Writers Write, Inc. All Rights Reserved.