Something Rotten
by Jasper
Viking, August, 2004.
Hardcover, 383 pages.
ISBN: 0670033596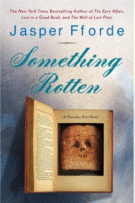 After surviving her last set of adventures (
Lost in a Good Book
), Detective Thursday Next is growing tired of being the head of Jurisfiction, chasing after escaped Minotaurs, filling in for Joan of Arc (harmful to one's hairdo), and lecturing Emperor Zark about his inappropriate and overly dramatic entrances. So she packs up her son Friday and heads back to the real world and Swindon determined to find her husband (who has been eliminated through time travel trickery by the evil Goliath Corporation who has now transformed into a multinational, oppressive religion.) But life in Swindon is not much easier than life in the fictional world. For one thing, the Danish prince Hamlet is a houseguest and his waffling is extremely annoying. But most annoying to the busy woman is the lack of competent childcare. Will Tuesday find Landon? Will a fictional character end up running England? And will Tuesday ever find a reliable babysitter?
One would think that
Jasper Fforde
would certainly have run out of ideas by now, but Fforde seems as likely to have writer's block as Tuesday's world is to end its love affair with the works of Shakespeare. Each book seems to further spur the author's imagination to new heights of cleverness and absurdity, with marvelously entertaining results for the reader. Fforde provides a veritable smorgasboard of action, thrills and intellectual stimulation in his latest novel, and he shows no signs of slowing down. So, sit back and enjoy the ride.
--Claire E. White
Something Rotten
is available for purchase on
Amazon.com
Note: We may receive a commission from sales made through product links in this article.
This review was published in the July-August, 2004 of The Internet Writing Journal.
Copyright © Writers Write, Inc. All Rights Reserved.