Small Town
by Lawrence Block
William Morrow, January, 2003.
Hardcover, 464 pages.
ISBN: 0060011904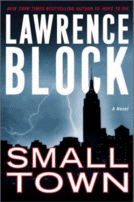 The events of 9/11 had different effects on different people. But one thing is for sure; New York and New Yorkers will never be the same. Now bestselling author Lawrence Block tackles the subject of 9/11 in a rare, stand-alone novel, with powerful results. A man who lost most of his family when the Twin Towers collapsed finally snaps and begins a serial killing spree which he believes will enable New York to rise phoenix-like from the ashes of its destruction. His victims have no connection to one another, which baffles the police. When Manhattan real estate agent Marilyn Fairchild is murdered, mid-list author John Creighton becomes the prime suspect, because he was in the wrong place in the wrong time. An acquaintance of Fairchild, beautiful art dealer Susan Pomerance, embarks on a voyage of sexual exploration, and a former police commissioner toying with a political run decides that he might be able to catch the serial killer that the press has now named "The Carpenter".
Small Town
follows the lives of these and other characters, who are all connected by the threads of murder, desire and desperation.
For readers of Lawrence Block's lighthearted Bernie Rhodenbarr series,
Small Town
is going to be a bit of a shock, with its numerous graphic, kinky sex scenes. But for his more adventuresome readers,
Small Town
will strike a nerve with its raw emotion, sly satire and powerful storytelling.
--Claire E. White
Small Town
is available for purchase on
Amazon.com
Note: We may receive a commission from sales made through product links in this article.
This review was published in the January, 2003 of The Internet Writing Journal.
Copyright © Writers Write, Inc. All Rights Reserved.