Sleeping Beauty
by Adele Geras, Illustrations by Christian Brimingham
Orchard Books, April, 2004.
Picture Book, 64 pages.
ISBN: 043958180X
Ages 7-10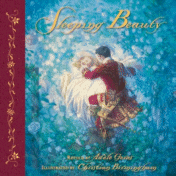 Adele Geras imbues this classic fairy tale with new life in this beautiful edition, illustrated by Christian Birmingham. The King and Queen throw a banquet for their baby daughter Aurora, but don't invite the touchy fairy Skura. Skura gatecrashes the party and curses Aurora to be pricked by a spindle and die when she is sixteen. But a kind fairy softens the curse to a hundred years' sleep. Aurora grows up to be a talented and courageous young woman, but cannot escape the curse, falling into a deep sleep after an encounter with a disguised Skura. And so the entire kingdom slumbers for a century until a handsome prince arrives to awaken Aurora and lift the curse.
Adele Geras has a lively storytelling style which makes the narrative read more like a classic fantasy tale than a young child's bedtime story. Princess Aurora has an interesting personality: she loves to read and to swordfight, just as much as she loves dressing up in fabulous gowns and dancing till dawn. She is a fearless and compelling heroine, with real spunk. The story is illustrated in Christian Birmingham's charcoal drawings and lush paintings which perfectly capture the elegance and beauty of the royal court. This version of
Sleeping Beauty
will delight children, as well as adult collectors of fairy tales.
Sleeping Beauty
is available for purchase on
Amazon.com
Note: We may receive a commission from sales made through product links in this article.
This review was published in the May-June, 2004 of The Internet Writing Journal.
Copyright © Writers Write, Inc. All Rights Reserved.