Shadow Puppets
by Orson Scott Card
Tor, October, 2002.
Hardcover, 348 pages.
ISBN: 0765300176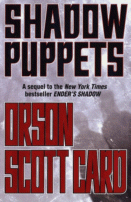 In this sequel to
Ender's Game
,
Ender's Shadow
, and
Shadow of the Hegemon
, the story of the brilliant children who saved Earth in continues. After defeating the insectoid aliens, the children return home to find that the unity brought about by the alien threat is dissolving. China is determined to further its empire and is seeking to gobble up nearby countries, and the arch villain Achilles is once again up to his evil schemes. Bean and his love Petra must once again take on Achilles, while battling their own personal heartaches. They long to have a child, but want to spare the child the effects of the gene tampering that Bean was subjected to: the enhancements made Bean a genius, but they are also killing him. Meanwhile, Peter Wiggins, the older brother of war hero Ender Wiggins, must find a way to pull the diverse governments of Earth back together before the entire planet dissolves into anarchy.
Orson Scott Card effortlessly keeps the ongoing story of Ender Wiggins and his friends fresh and entertaining. In this latest installment, there is lots of action, suspense and intrigue -- as well as a great deal of trauma for both Bean and Peter. Card makes his characters so interesting and believable that you immediately buy into the future that he has created for the Earth. This is another outstanding entry in a compellingly original SF series.
Shadow Puppets
is available for purchase on
Amazon.com
Note: We may receive a commission from sales made through product links in this article.
This review was published in the October - November, 2002 of The Internet Writing Journal.
Copyright © Writers Write, Inc. All Rights Reserved.