Seduction in Death
by J.D. Robb
Berkley, August, 2001.
aperback, 368 pages.
ISBN: 0425181464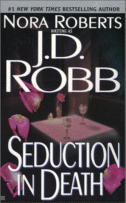 Tough as nails cop Eve Dallas is back in this 13th installment of the gritty, futuristic detective series written by Nora Roberts under her pseudonym, J.D. Robb. Eve's latest foe is a gruesome serial killer who romances young, single women in poetry chat rooms, meets them in person, then dopes them with a lethal date-rape drug. Further investigation seems to reveal more than one killer, and the case is complicated by the fact that the murderer seems to be a master in computers and disguises. With the help of her sexy billionaire husband Roarke, her assistants Peabody and McNabb (who are in the throws of an on-again, off-again steamy affair) and her own considerable detecting skills, Eve sets out to trap a killer, using herself as bait.
The
In Death
series is an unusual blend of science fiction, romance and hardboiled detective action which has struck a nerve with both mystery and romance readers. The world explored in this series is not a pretty one, although the futuristic setting does provide a very luxurious lifestyle for the very wealthy. Eve and Roarke continue to grow in complexity as characters and Roberts' knack for dialogue and plot continues unabated. This is a gripping and unique series that keeps getting better as time goes on.
Seduction in Death
is available for purchase on
Amazon.com
Note: We may receive a commission from sales made through product links in this article.
This review was published in the Oct. - Nov., 2001 of The Internet Writing Journal.
Copyright © Writers Write, Inc. All Rights Reserved.