Please Say Please: Penguin's Guide to Manners
by Margery Cuyler
Scholastic, April, 2004.
Picture Book, 32 pages.
ISBN: 0590292242
Ages 3 and up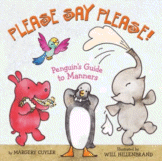 Penguin decides to have a dinner party at his house for all his animal friends. The animals barge right in the front door without knocking, yelling, "Let's Eat!" "Is that right?" the narrator asks. The narrator then explains why that behavior is wrong, that they should have knocked first, then waited until Penguin opened the door and then politely said hello. The wild party continues as various animals commit manners
faux pas
: the pig wipes his muddy hooves on the tablecloth, the hippo puts her napkin on her head, the lion announces that he hates cauliflower (a complaint many children share) and the parrot flies away from the table to go to the bathroom without first being excused. The antics of the animals are brought to life by the colorful and lively illustrations by the talented Will Hillenbrand: dancing hippos, laughing chimps and a smiling giraffe are all beautifully rendered in tableaux which are very funny indeed. This is a marvelous book for teaching manners in a way that children will absolutely love. The book's interactive narrative, which asks children "Is that right?" after every snafu is an especially appealing and helpful teaching tool.
Please Say Please: Penguin's Guide to Manners
is available for purchase on
Amazon.com
Note: We may receive a commission from sales made through product links in this article.
This review was published in the March-April, 2004 of The Internet Writing Journal.
Copyright © Writers Write, Inc. All Rights Reserved.